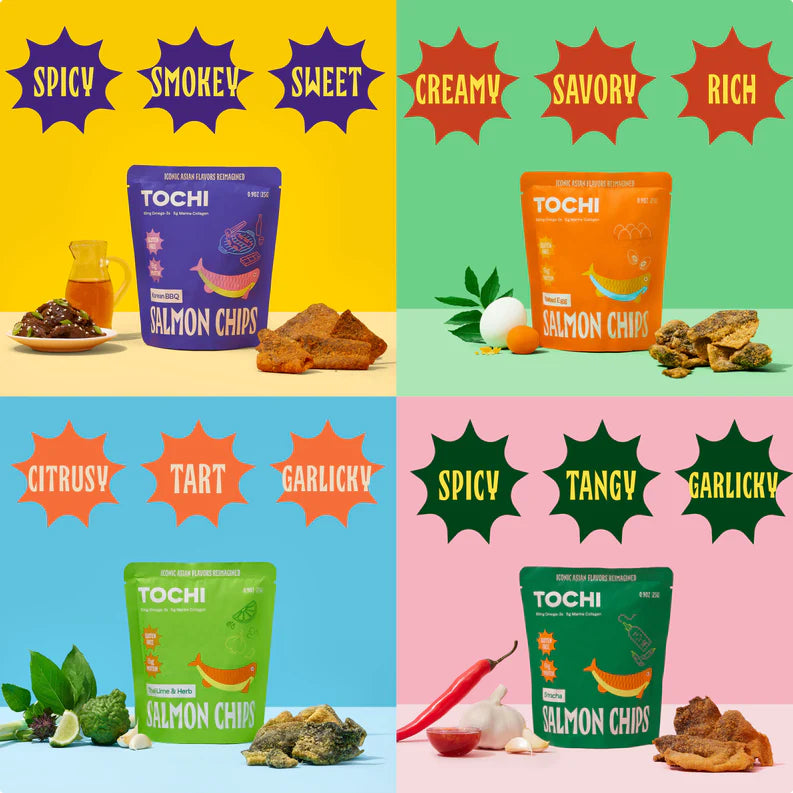 Tochi Salmon Skin Chips
$5.50
Tochi's newest snacks are here! Their main ingredient? Sustainably sourced salmon of the highest quality from Norway and England. Tochi salmon chips pull double duty, delivering iconic Asian flavors and healthy nutrients — all in one convenient snack.
Tochi Salmon Skin Chips are:
High in protein with 9 grams per serving to keep you full

High in collagen with 5 grams per serving for healthy hair, skin, nails and gut 

Full of Omega-3s DHA to boost your brain and protect your heart
Only 140 calories, a light yet filling snack!
Free of artificial preservatives and MSG
Four flavors are available:
Korean BBQ — Inspired by one of Korea's most iconic dishes, bulgogi beef, these chips employ a sweet and savory base elevated by the aromatics of sesame oil.
Salted Egg — Rich, savory, and bursting with umami, with the perfect amount of creamy yolkiness for maximum drool-worthy flavor.
Thai Lime and Herb — Inspired by the iconic Thai style steamed fish with garlic and lime sauce, these chips are seasoned with a blend of herbs and finished off with a kiss of lime,
Sriracha — Pays tribute to this iconic hot sauce, these chips are a perfect balance of sweet, punchy sour, umami garlic, and finished off with a light spicy kick.
Net weight for each: 25 g