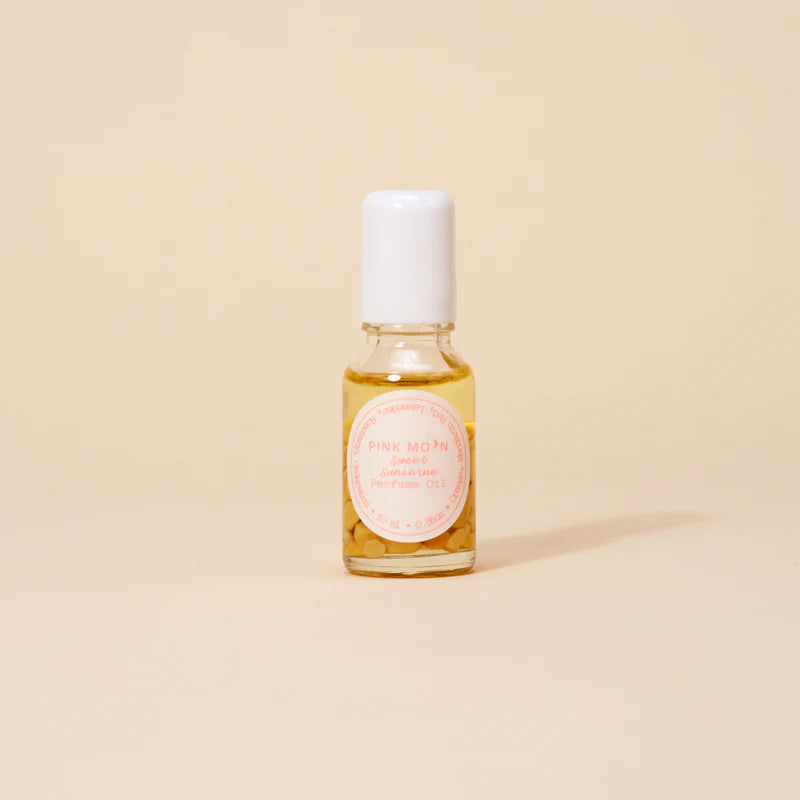 Pink Moon Sweet Sunshine Perfume Oil
$50.00
Pink Moon, founded by Lin Chen, is a slow beauty brand that focuses on cultivating genuine self-love through scent. Bright, vibrant, and uplifting, this perfume oil with energetically charged yellow topaz is intended to capture the enlivening and uplifting nature of the sun.
Bright orange and mandarin red essential oils are balanced with fresh lavender and rosemary + earthy cedarwood – all are Leaping Bunny certified

Features yellow topaz crystal rollerball and gemstones inside the bottle

Yellow topaz properties: growth, protection, abundance, creativity, harmony

Comes in a reusable handmade cotton pouch
BEST FOR
A quick pick-me-up, before a meeting or public speaking event, artists especially writers, for a boost of creativity, Scorpios
INSIDER TIP
To hone in on the properties of yellow topaz, apply the oil with intention as you visualize a warm, sunny day ☀️ 

Apply to temples, under nose and along collarbone for a quick pick-me-up ⚡️

Apply to the throat chakra for a boost of confidence. 

Yellow topaz is also November's birthstone.
THE RITUAL
Roll onto pulse points and feel the aromatherapeutic benefits of the essential oils and energetic properties of yellow topaz uplift your spirit. Apply to your throat chakra to boost creativity and confidence.
SIZE→ 0.35 fl oz / 10 ml