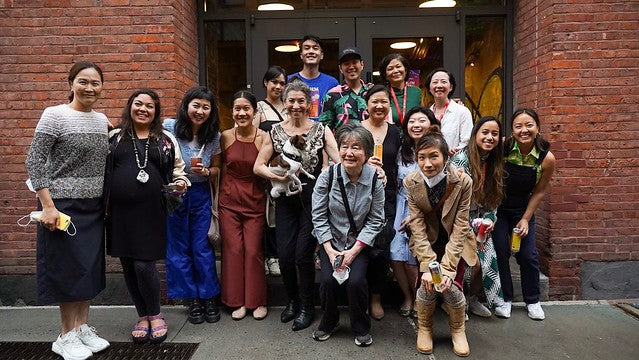 A Super Fun APAHM: Food, Fun, and Friends
Thanks to all those who came out to celebrate AAPI Heritage Month with us!
Earlier this month we partied hard at Chelsea Market with co-host Lunar Hard Seltzer as we helped launch their new restaurant collaboration flavors, a slew of emerging and established AAPI brands, and our newest art exhibition. There was also plenty of delicious food and drinks to be had from some of our favorite AAPI restaurants and food vendors.
Special shouts and appreciation also to event partners and sponsors Gold House, Silicon Valley Bank, the Asian American Arts Alliance, and Chelsea Market. Check out more of the festivities!
The fun continued this Wednesday as we opened the Pearl River Mart Gallery portion of our newest art exhibition. The reception for SOFT SOLIDARITY: UNITING TO PROTECT, EMPOWER, AND HEAL was like the show itself: warm, intimate, and heartening. It was lovely to see members of the art and activist communities come together to celebrate the work of these AAPI women artists. Check out the photos from the reception.
If you couldn't attend the events, no worries: Lunar's special collaboration flavors with Bonnie's, Win Son, and Jeju Noodle Bar are still available via their website; the featured AAPI brands from Gold House's Founder Network are available at Pearl River Mart and Pearl River Mart Foods for at least another month; and SOFT SOLIDARITY is on view at Chelsea Market through June 6 and the Pearl River Mart Gallery through August 28.
Already looking forward to next year!
[Photo credit: Sam Park]