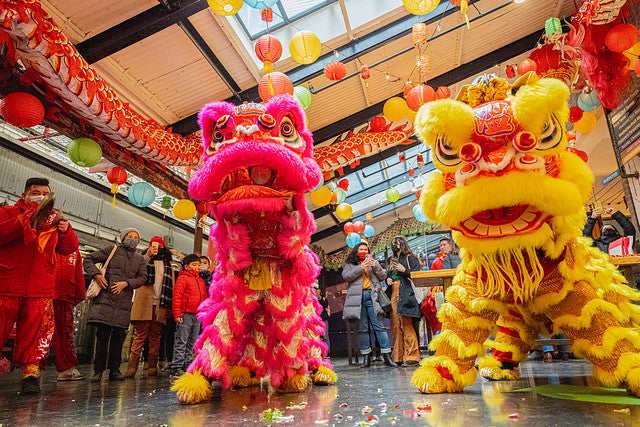 Lunar New Year 2022 Festivities with Pearl River Mart
Lunar New Year is coming! Which means we have lots of fun stuff lined up, from events to products to free gifts.
Lion Dancing and Lucky Outdoor Meal at Chelsea Market
We had so much fun last year with our Chelsea Market outdoor meal and lion dancing performance, we're doing it again! 
You'll enjoy a special Lunar New Year menu from partners Very Fresh Noodles and Pearl River Mart Foods vendors, Mao's Bao, Kimbap Lab, and Tea & Milk, as well as refreshing libations from generous sponsors Moshi Sparkling Drinks, Lunar Hard Seltzer, and Diageo.
With reserved heated outdoor seating, diners will be in a prime comfortable viewing spot for a festive performance by renowned lion dance troupe, the incomparable Wan Chi Ming Hung Gar Institute Dragon and Lion Dance Team. 
How much: Starts at $208 for four. Please see Eventbrite for details. 
When: Feb. 5, 11 a.m. and 2 p.m.
Where: Chelsea Market Outdoor Patio
Can't make the meal? You can still catch the lion dancing show! Just walk on up on West 16th Street between 9th and 10th Avenue around 11:30 and 2:30.
Lunar New Year Decorations in Chelsea Market
We're so happy to provide Lunar New Year decorations once again for our friends at Chelsea Market. Check out the beautiful displays at the waterfall, brick wall before the lighted arch, and of course inside Pearl River Mart on the main concourse. All thanks to the talent and vision of our own Jeff Van Damme.
How much: Free
When: Until mid-February
Where: Main concourse and Pearl River Mart in Chelsea Market
Year of the Tiger Friendship Box (SOLD OUT)
Our newest Friendship Box is the perfect festive gift to wish someone a happy Lunar New Year. It includes treats to bring good fortune, cute tiger items, lucky red money envelopes, a lucky charm, a noisemaker to scare away evil spirits, a zodiac activity book, and the newest Chinese pocket almanac.
Lucky Foods Box
This year we're also offering a gift box chock full of lucky foods. These traditional sweet treats are typically served in a Togetherness Tray, which is essential for welcoming guests during Lunar New Year. (Our Togetherness Trays are currently sold out.)
Lunar New Year Lucky Takeout Box
Perfect for kids or as party favors, our Lunar New Year Lucky Takeout Box is full of fun and fortunate items.
How much: $18

When: While supplies last

Where:

On our website

and our SoHo and Chelsea Market locations