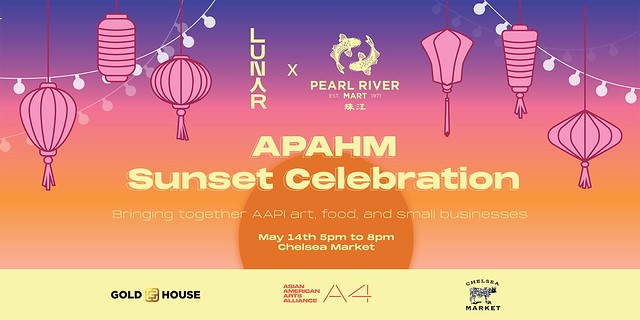 Celebrating APAHM with Lunar Hard Seltzer, Gold House, Asian American Arts Alliance, and Chelsea Market
Asian Pacific American Heritage Month — or APAHM for short — is here! And we're celebrating it in style with some friends at Chelsea Market.
What is APAHM?
Occurring every May, APAHM was officially designated by Congress in 1992. May was chosen to commemorate the arrival of the first Japanese immigrants to the U.S. on May 7, 1843, and to mark the anniversary of the completion of the transcontinental railroad on May 10, 1869. The majority of the workers who laid the tracks were Chinese immigrants.
Now APAHM is celebrated all over the country as a way to share and remember our histories and accomplishments, but also to support the current Asian American Pacific Islander (AAPI) community. 
So how can you celebrate?
Take a self-guided tour of contemporary art by AAPI women artists
Our newest art exhibition, SOFT SOLIDARITY: UNITING TO PROTECT, HEAL, AND EMPOWER, opens in Chelsea Market on May 14. 
Presented in partnership with the Asian American Arts Alliance, this group exhibition explores how AAPIs as a diverse and varied community can unite in the face of adversity and discrimination. It features women-identifying artists who share a love for contemporary art and traditional craft. Their work delves into the idea of "soft solidarity," a kind of loose unity unconstrained by background, location, or socioeconomic status, and how seemingly contrasting attributes can exist simultaneously and in harmony — softness and strength, pliability and power, delicacy and danger.
The participating artists are:
aricoco
Suejin Jo
Joyce Yu-Jean Lee (curator)
Natalia Nakazawa
Sui Park
Lu Zhang 
You can find the art pieces starting at the 9th Avenue entrance of the Market, continuing in "the nook" (the small room across from Amy's Bread), and ending at the Market's 10th Avenue side. (Check out our APAHM Chelsea Market map for details.)
The exhibition spans two sites:
Chelsea Market from May 14 through June 6

Pearl River Mart SoHo gallery from May 18 through August 28
Both sites are free and open to the public during business hours. You can also join us for the opening reception at the Pearl River Mart Gallery on May 18.
Browse and support emerging AAPI entrepreneurs and brands
At Pearl River Mart and Pearl River Mart Foods, we celebrate API businesses all year long, but this month you'll find 50+ new products from 18 emerging AAPI brands, all members of Gold House's Founder Network. 
Gold House, the leading Asian and Pacific Islander (API) changemaker community, works to unite, invest in, and promote API creatives and companies. Their Founder Network is the leading API entrepreneurship community.
AFAR Foods

AshaPops

Tochi Snacks

Covry

Fly By Jing

Health-Ade Kombucha

Mount Lai

Munchrooms

Neuro

Nguyen Coffee Supply

Nona Lim

Omsom

Potli
Sanzo

Recoup

The Qi

Yi Shi Foods

Youthforia
You can find these hot new products spanning the categories of food and beverage, beauty, apparel, and more in Pearl River Mart on the main concourse of Chelsea Market and in Pearl River Mart Foods on the Chelsea Local lower level. 
Have a taste of AAPI foods and drinks
If you're in the NYC area, join us on May 14 between 5 and 8 PM for an APAHM Sunset Celebration sponsored by Silicon Valley Bank and hosted in partnership with Lunar, an emerging AAPI-owned business that specializes in hard seltzers with unique Asian American flavors. You'll get an exclusive first reveal of their new limited edition Heritage Line, featuring Sunset Edition flavors in collaboration with three popular NYC eateries: Win Son, Bonnie's, and Jeju Noodle Bar.
You'll also have the chance to meet AAPI entrepreneurs, and sample bites and drinks from some of our favorite AAPI restaurants, including:
Bonnie's

Hao Noodle

Jing Fong

Win Son

Kimbap Lab 
Kitsby 
Mao's Bao 
Tea and Milk
Mok Bar
Moshi
Oddball
Halmi

Homiah

Noodie
Also be sure to visit the AAPI businesses in Chelsea Market, including Ayada, Buddakan, Mok Bar, Very Fresh Noodles, and of course, Pearl River Mart and Pearl River Mart Foods.
Happy APAHM!