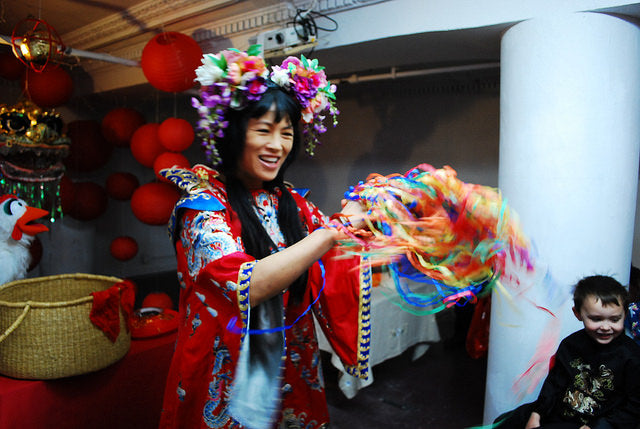 Grace "GeGe" Chang Has the Magic Touch
Celebrating the Lunar New Year is about increasing your luck and eating yummy food with loved ones, but it's also about having fun. That's why we're so excited to welcome back Grace "GeGe" Chang, a renowned magician, puppeteer, and storyteller.
We had the chance to chat with Ms. Chang about how she learned magic, what she enjoys most about interacting with an audience, and the deeper meaning of performing magic.  
What's your family background?
I was born in Beijing, China, into a family of famous entertainers. The Chang family is listed in the Who's Who encyclopedia of China and has been bestowed with the honorary title of "Cultural Treasure of China."
Wow, that's so cool! So did you grow up learning magic?
Yes, at a young age, I learned the art of magic and illusion from my grandmother in the courtyards of the Forbidden City. Then when I went to school, I studied, acting, theatre and writing.
I understand you were the ringmaster and star illusionist for the Chinese equivalent of Cirque du Soleil. Can you tell me a little bit about that? 
Since it was part of the family tradition, it was natural for me to join the circus. I started in this role when I was a teenager. Back then, I didn't enjoy performing as much as I do now. I treated it simply as a job and couldn't understand its deeper meanings. Now I bring those deeper meanings to my performances and performing is no longer a job, it is a calling. My mission is to introduce Chinese culture to American audiences through magic.
What's your favorite magic trick?
There is trick from my family tradition I enjoy in which I keep pulling objects out of a bottomless tube.
What do you enjoy most about performing magic?
I am thrilled at people's joyful responses. It is like tai chi [a kind of Chinese martial art], a nice give and take with the audience.