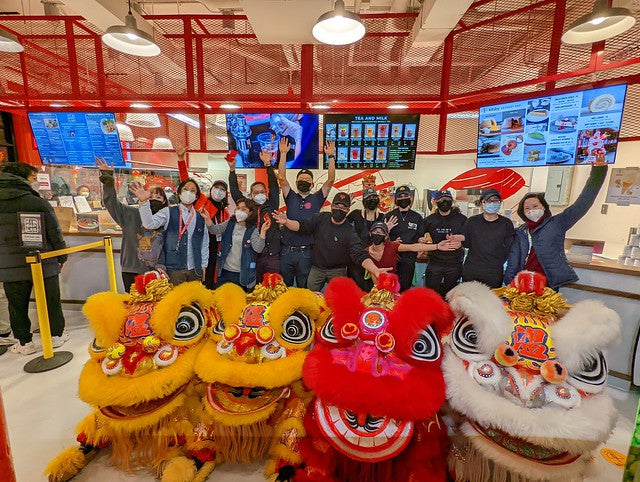 Lunar New Year 2022 in Review: Happy Year of the Tiger!
It's been a whirlwind of a Lunar New Year season, and you all have made it so much fun. Here's a look back at the past few festive weeks.
Our newest art exhibition opens
We kicked off the Lunar New Year season early with the opening reception of our newest art exhibition.
At the end of last year, Nancy Pappas set a goal for herself for 2022: exhibit her own art show. Just a few days later, her dear friends (and Pearl River's own) Amber Luan and Christine Wong reached out to her about a Lunar New Year show for Pearl River. Of course Nancy said yes. Just four weeks later, the talented illustrator and designer had put together a gorgeous exhibition celebrating her love of and journey through food.
ESSENTIAL INGREDIENTS: A RECIPE FOR REDISCOVERY opened on Jan. 20 with a warm and intimate celebration with some of Nancy's closest friends and colleagues from the art, foodie, and AAPI communities. We were so moved by the enthusiasm and support shown to this talented artist, and are so proud to be able to host her work.
Nancy's exhibition is on view through April 24 in the Pearl River Mart Gallery in our SoHo location at 452 Broadway. Free and open to the public every day between 11 and 7. See more photos from the opening reception.
A Lunar New Year's Eve visit from NY1's Roger Clark
Along with eating dumplings, wearing something red, and enjoying lion dancing, welcoming NY1 reporter (and friend!) Roger Clark to the store is a Lunar New Year tradition for us at Pearl River. And this year was no different! Our own Joanne Kwong had fun suiting up the veteran reporter in a new red jacket for extra luck, showing off our beautiful LNY table of bounty full of fortunate foods and items, and talking about why she loves being a small business owner.
"I think small business owners, especially brick-and-mortar small business owners, want to stay in business, because they love people and they love serving their community, so we really hope to be able to stay here. We feel like it has a good energy to it and we really love serving the people of downtown New York," she told Roger.
Lion dancing on Lunar New Year Day
We rang in Lunar New Year Day in the best possible way: with an incredible performance from the Wan Chi Ming Dragon Lion Team! We've been friends with the team for a LONG time. Mr. Chen even took some lion dancing lessons himself with troupe leader Warren's dad back in the day! And on Feb. 1 we were so honored to welcome them to our SoHo location for the very first time. Check out their entire performance.
A visit from CBS's John Elliott
The first week of Lunar New Year was a busy one! We also hosted John Elliott of CBS and had fun giving him a tour of our newish digs, sharing LNY traditions, and raving about our lovely friend, CBS news anchor Cindy Hsu. Watch the whole segment.
Annual Lunar New Year celebration at Chelsea Market
We had a fantastic time again this year partnering with Chelsea Market for our annual Lunar New Year celebration in the Meatpacking district. In addition to another showstopping performance from the Wan Chi Ming Dragon Lion Team, the event offered delicious treats from:
Partner Very Fresh Noodles

Featured Pearl River Mart Foods vendors Mao's Bao, Kimbap Lab, Tea and Milk, and Kitsby

Generous sponsors Moshi sparkling waters, Lunar hard seltzer, and Diageo
We also loved welcoming friends, fans old and new, and community members, including CBS News anchor and friend Cindy Hsuand her guests, award-winning cookbook author Grace Young, dear friend Vivian Chen and her lovely family, filmmaker and producer Peilin Chou and family, Think!Chinatown co-founder Amy Chin, and many more.
You can check out some of the lion dance performance here, here, and here, and even more pictures from the event.
Thanks to everyone who celebrated with us, whether in person or online. We're already looking forward to ringing in the Year of the Rabbit!