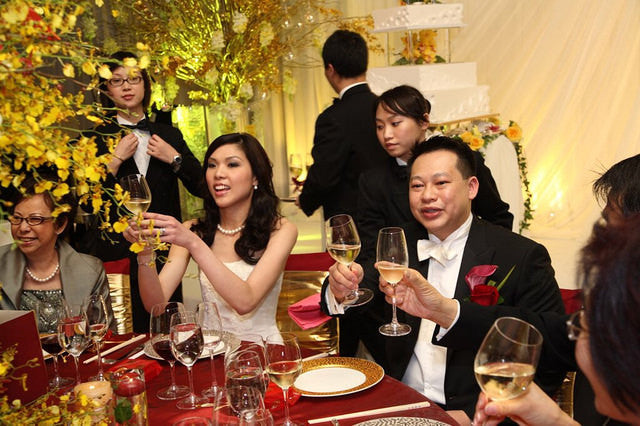 High Jinks, Family, and Really Good Food: A Fun-Filled Wedding in Hong Kong
This entire month we're celebrating the joys of tying the knot. Here's a personal story from our friends Mike and May about how they brought together their international friends and family, the fun of incorporating madcap Chinese traditions, and how they traveled halfway around the world for some really good food.
I'm from Hong Kong and Mike's from Boston. When we began planning our wedding, we both lived in New York and had family and friends spread across the U.S., Canada, and Asia. We considered all possible options in New York, Vancouver, and Hong Kong. Our choices for venues were further limited when, as tradition dictated, our families selected a few auspicious dates. Finally, the added logistics of possibly coordinating a wedding in a remote city made the task of choosing a venue even more daunting.
But since we're both such foodies, after careful consideration, we decided our most important criteria was to have a full traditional Chinese banquet where our guests could really enjoy the menu that we would pick out. We ultimately found the perfect venue at the original Ritz Carlton in Hong Kong. They provided us with ballrooms the perfect size for our afternoon wedding ceremony and lunch, traditional tea ceremony, cocktail reception, and wedding banquet.
With the venue set, we set out to plan the rest of the wedding and chose to keep with Chinese wedding traditions for our respective families. We were prepared for a full-day affair but knew it would be fun to have the entire wedding party actively participate. 
The morning of the wedding, Mike, his best man, groomsmen, and "brothers" (as the groom's entourage is called) had the single purpose of picking me up from my parents' home to get wedded.
Following tradition, my maid of honor, bridesmaids, and "sisters" (the bride's entourage) had been with me since early morning. They were there to help me prepare for the big day and ensure they could test Mike's resolve and sincerity as the groom-to-be before giving him entry into my parents' home to pick me up.
Despite the challenges and dares presented to Mike, his entourage of eight brothers stepped up to help overcome them. As a final gesture of commitment, Mike and his brothers had to successfully negotiate an entrance fee to pay my "sisters" in a red envelope for good luck. Since nine is a symbol of longevity, the sisters tried to negotiate an amount with as many nines as possible while the brothers tried to help the groom negotiate the best deal (or lowest amount). 
Led by our wedding coach, the wedding party arrived at the Ritz Carlton by noon for our wedding ceremony, which was followed by lunch and cocktails in the Harbour Room with a quartet playing in the background. 
After the ceremony, both families convened for the traditional tea ceremony in which Mike and I paid respect to all family members by serving them tea. In return, the family members gave us their blessings with gifts of red envelopes or jewelry. Following tradition, I changed into my custom-made traditional red qipao for the tea ceremony.
We took advantage of the little downtime to relax before the cocktail reception and wedding banquet. Thanks to all the help from the "brothers" and "sisters" of our wedding party, the cocktail reception got off to a smooth start and the banquet was ready to start on time. 
For the decor of The Ballroom, we decided to complement the lucky color of red with a gold floral theme. Some very talented Hong Kong designers helped make it happen by creating memorable arrangements, lighting, and backdrops.
Following Chinese wedding customs for the bride, I'm the lucky girl who got to change into multiple evening gowns throughout the night. 
And in case you're wondering what we thought of the food that led us halfway around the world, all 13 courses were absolutely exquisite!
That day, we felt like the luckiest couple, surrounded by such a huge turnout of friends and family near and far who joined us halfway around the world to celebrate our marriage. 
Want more weddings? Enjoy stories from our friends Scarlett and Dan and our president, Joanne Kwong, as well as 15 ways to add Asian flair to your own celebration and a primer on Chinese nuptial traditions, past and present.