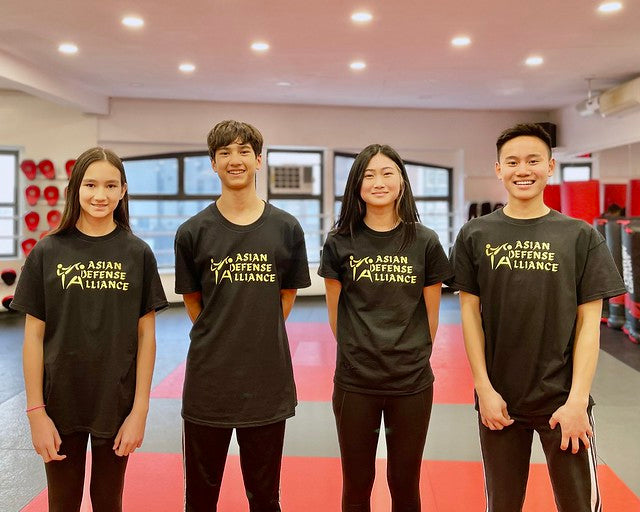 Kicking Off Our Self-Defense Workshop Series with the Asian Defense Alliance
We're so proud to present the first in an ongoing series of self-defense workshops in partnership with the Asian Defense Alliance (ADA).
This NYC-based not-for-profit was founded by high school students and lifelong martial arts training partners, Mateo Liguori and Ashely Wong, in response to the increase in anti-Asian violence, especially against elders.
"My grandmother did not feel comfortable walking around the city alone," Mateo says. "She would call me and jokingly request that 'her bodyguard' accompany her." Realizing that not everyone had a grandson with a first degree black belt in mixed martial arts at their disposal, Mateo took action. With Ashely (a second degree black belt in MMA), Hailey Sullivan, and Ean Tom, he formed the ADA with the mission of empowering the Asian community and allies against hate crimes and other acts of violence through self-defense training and education.
"The founders of the Asian Defense Alliance are incredible," says Pearl River Mart President Joanne Kwong. "They not only have mastered martial arts at a young age, but at the height of the pandemic they had the empathy to worry about their elders and took action in an organized way. It gives me a lot of hope for the future during these unsettling times."
In this workshop participants will learn situational awareness, how to diffuse aggression, and self-defense techniques. Open to all ages and levels.
Participants will receive a personal alarm or pepper spray. Light refreshments — in the form of bubble tea from Tea and Milk, a Pearl River Mart Foods featured vendor — will be served. The workshop is free and open to the public, but registration is required and space is limited.
See you soon!
[Image: ADA founders, left to right: Hailey Sullivan, Mateo Liguori, Ashely Wong, Ean Tom]