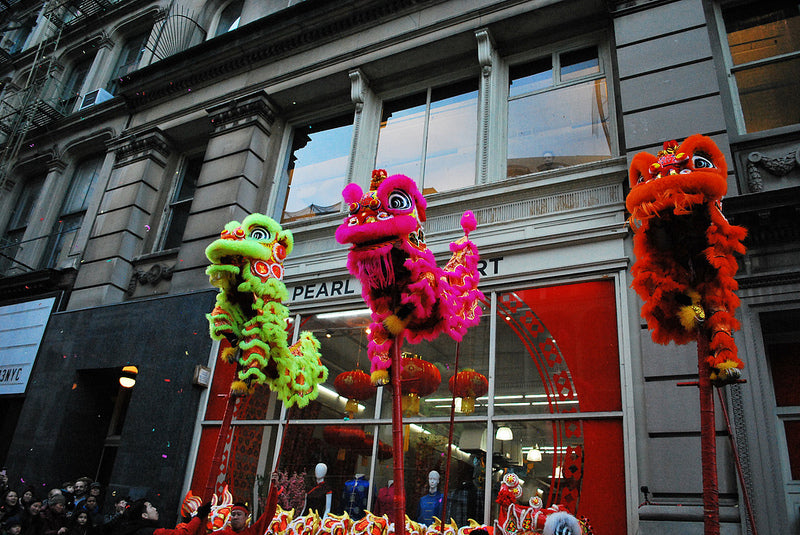 Lunar New Year 2019: Openings, Events, and Festivities Galore!
The Lunar New Year is almost here so you know what that means: events and festivities, Pearl River style! And now we have a THIRD store — located in the esteemed Museum of Chinese in America (MOCA) — to party hearty in. All events are free and open to the public.
MOCA Shop by Pearl River: Opening (Museum of Chinese in America)
Thursday, Jan. 31, 11 a.m.
Our third location in three years will be open for business on this day! Come to the esteemed Museum of Chinese in America, the world's leading institution dedicated to preserving and presenting Chinese American history and culture, and see their exhibitions on the importance of the Chinese typewriter in history and photographs of Chinese Americans in the 1980s, and stay to peruse the shop curated by Pearl River. For a sneak peek of what will be available, check out New York Magazine's First Look.

Art Exhibition Opening (TriBeCa)
Saturday, Feb. 2, 4 to 6 p.m.
Join us for the opening reception for our latest art exhibition, CLOSING DISTANCES. With abstract paintings by esteemed contemporary artist Arlan Huang and Cantonese opera costumes curated by designer and performer Mee Mee Chin, the artists (and cousins) explore what it means to be Asian American, and how it might be possible to close the distance between generations, cultures, and points of view.
Draw NYC: Celebrate the Lunar New Year (Chelsea Market)
Sunday, Feb. 3, 11 a.m. to 2 p.m.
Take a quiet moment from all the festivities and channel your inner artist In partnership with Chelsea Market and the Uni Project, a nonprofit that creates learning environments in public space across NYC, participants will learn how to draw a festive Lunar New Year tableau. On hand to provide guidance will be professional illustrator and former Pearl River artist-in-residence Felicia Liang.
Lunar New Year Bonus Time (All Locations)
Tuesday, Feb. 5, All Day
To celebrate New Year Day, we'll be giving away special gifts at all three of our locations. Just spend $35 or more! While supplies last.
Lunar New Year Extravaganza (Chelsea Market)
Saturday, Feb. 9, 4 to 7 p.m.
It's our annual Lunar New Year extravaganza, and we have dancing, dumplings, and more in store!
Ribbon Dance (4:00–4:30) — A beautiful and ancient art performed during times of celebration in China.
Lion Dance (4:30–5:00) — The piece de resistance of any Lunar New Year celebration. The renowned Wan Chi Ming lion dance troupe will rock the market with their festive drumming and acrobatics.
Dumpling Tasting (5:00–7:00) — Pan-fried soup dumplings anyone? Try 

sheng jian bao,

 a specialty from Mao's Bao, an NYC-based pop-up. Part baozi, part xiao long bao — all delicious.
Chinese Opera Makeup Demonstration/Performance and Lion Dance (TriBeCa)
Sunday, Feb. 10, 2:00 to 4:30 p.m.
The Year of the Pig celebrations continue at our flagship store in TriBeCa.
Chinese Opera Makeup Demonstration and Performance (2:00–4:00) — See designer and Cantonese opera enthusiast Mee Mee Chin apply this complex and intricate makeup. Following will be a performance by Ms. Chin at 3:30. You can also check out CLOSING DISTANCES, her exhibition with her cousin, painter Arlan Huang, all day.
Lion Dance (4:00–4:30) — The Wan Chi Ming lion dance troupe struts their stuff, bringing luck and fun to downtown Manhattan.
Please note we're still in the process of adding details. Be sure to check back again!