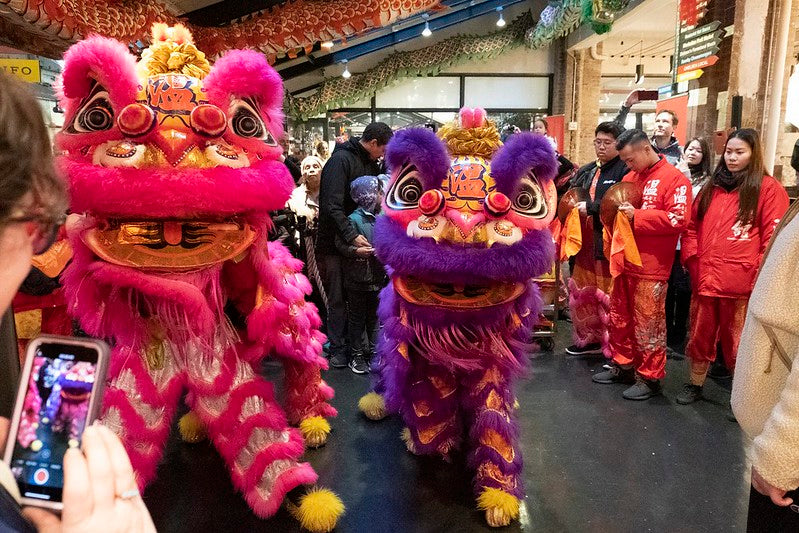 Lunar New Year 2020 in Review: From A Modern Monkey King to a Delicious Dumpling Demo, and Much More
We had another fun and festive Lunar New Year, complete with awesome art, delicious dumplings, lively lion dancing, and more. Check out our recap of how we rang in the Year of the Rat.
A Chinatown Odyssey: Art Exhibition Opening
We got the party started early with the opening reception of our current exhibition, A CHINATOWN ODYSSEY, featuring exquisitely detailed illustrations from acclaimed graphic novel and comic book artist Jerry Ma. We had tons of fun celebrating —
— and got to try scrumptious Taiwanese eats and drinks from Ho Foods.
In case you didn't notice, we had a blast (and that's not just the shochu talking)!
A Lunar New Year Tradition with Roger Clark and NY1
A tradition we look forward to every Lunar New Year is sharing traditions and fun facts with Roger Clark of NY1 — and we're so happy to have been able do so again this year!
Roger also spoke with artist Jerry Ma about his exhibition:
You can watch the whole segment here.
Celebrating the Year of the Rat with Cindy Hsu and CBS
We were so happy to celebrate with Cindy Hsu of CBS not just once but twice! The news anchor first came to our TriBeCa store and spoke with owner Mrs. Chen about what the Year of the Rat means, dos and don'ts, and how the Chinese zodiac works.
Then we headed out to the studio and set up our table of Lunar New Year decor and lucky foods (beautifully designed by our own Jeff Van Damme) —
— to share with Cindy and meteorologist John Elliott!
Check out the full segments here and here.
Decking out Chelsea Market, Lunar New Year Style
This year you could find Lunar New Year not just in our store but throughout Chelsea Market as well. From lanterns —
— to scrolls and firecrackers —
— to fabulous dragons.
Our in-store decorations weren't too shabby either!
A Dumpling Demo, Lantern Welcoming, and Happy Hour
We lauded Lunar New Year day with an action-packed afternoon at our TriBeCa store. We kicked off the fun with a dumpling-making demo from cookbook author, certified health coach, and sustainability guru Christine Wong.
We also offered some lucky foods to sample —
— and refreshing beers and tea to sip from official sponsors Hokkaido Brewing beers and Brooklyn Crafted!
Another highlight was welcoming artist Yao Xiao, Think!Chinatown friends Yin Kong and Amy Chin, and Yao's beautiful lantern.
 The day was capped off with yummy dim sum from another official sponsor:
Thank you so much Jing Fong, and thanks to everyone who came out in the pouring raining to help us celebrate!
Another Lunar New Year Extravaganza on the Books!
Lunar New Year wouldn't be complete without our annual Chelsea Market extravaganza. We welcomed back dancer Ling Tang who wowed the crowd with her parasol dancing —
— ribbon work —
— and fan action.
Next was a reading and coloring activity from Gordon & Li Li author, Michele Wong McSween:
And of course raucous lion dancing from the inimitable Wan Chi Ming Dragon Lion Team!
After so much fun, we were starving. Mao's Bao to the rescue!
Happy Year of the Rat from all of us at Pearl River!