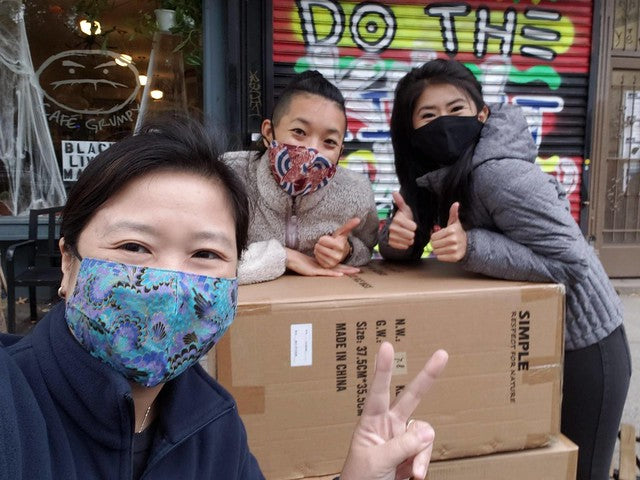 Pearl River Mask Drive: Heart of Dinner and Final Update
Last week we made our last mask donation dropoff, and it was with dear friends Heart of Dinner.

Heart of Dinner's mission is to end hunger and isolation for low-income Asian American homebound elderly. We were so happy to donate 3,000 masks recently and another 2,000 in April for these in-need puo-puos and gong-gongs, nai-nais and yeh-yehs. But of course we couldn't have done any of it without you.
When we launched this mask drive in April, we didn't know what to expect. All we knew was that healthcare workers across New York City were without proper PPE. Imagine our surprise when in the midst of a pandemic, generous donors helped us raise $50,000 in just six days. As a result we were able to donate PPE to staff in Elmhurst Hospital, one of the hardest hit in the city. Friend and physician Dr. Olivia Ghaw told us how grateful her staff was to receive them during those first few especially scary weeks in April. 
Since then, thanks to the generosity of our customers and friends, we have been able to raise $70,000 to distribute 25,000 KN95 masks as well as assorted surgical masks, gloves, and food items from several of our small business friends, including Fatwitch Bakery, Tea & Milk, and 10 Thousand Foxes.
We wanted to give special shout-outs to generous contributions from:
Hanky Panky

, who donated a portion of all sales of face masks in their signature lace fabric

Brothers of Pi Delta Psi

from NYU, RPI, and UConn, who not only raised almost $4,000 for the cause, but also shaved their heads to encourage donations!

Our friends at Chelsea Market, who are always supportive and ready to help

Foremost Groups, and especially Vivian Chen, who made the first drive of dropoffs with us
And to Alexandria Misch and Canal Street News for spreading the word with her excellent article in the earliest of days.
Our partners in this project all along the way were Helen Lee of F&T Group, Council Member Carlina Rivera and her staff, Representative Grace Meng and her staff, and Dr. Olivia Ghaw and the staff at Elmhurst Hospital. With their help, distributions were made over the past seven months to:
Elmhurst Hospital ICU and ER (thanks to Dr. Olivia Ghaw)

Coalition for the Homeless (thanks to longtime PRM employee Lance Eisenberg)

Charles B. Wang Community Health Center (thanks to NYC Council Member Carlina Rivera)

Ryan Health (thanks to NYC Council Member Carlina Rivera)

Betances Health Center (thanks to NYC Council Member Carlina Rivera)

FDNY EMS (thanks to Helen Lee at F&T Group and NYC Council Member Donovan Richards)

NYC Department of Corrections Chaplain Unit (thanks to Chaplain Justin von Bujdoss)

Clergy in Bedford-Stuyvesant and Crown Heights (thanks to Teresa Gonzalez and NYC Council Member Robert Cornegy, Jr.)

Heart of Dinner, serving meals to homebound Chinatown seniors (thanks to co-founders Moonlynn Tsai and Yin Chang) 

Apicha Community Health Center (our neighbor in Tribeca/Chinatown)

Transit Workers Union (thanks to U.S. Rep. Grace Meng)

1199 SEIU (thanks to U.S. Rep. Grace Meng) 

Amalgamated Transit Union (thanks to U.S. Rep. Grace Meng)

32BJ SEIU (thanks to U.S. Rep. Grace Meng) 

New York State Nurses Association (thanks to U.S. Rep. Grace Meng)
Thanks once again to all who made this drive possible, from the initial drop at Elmhurst Hospital to this final one for Heart of Dinner. 
To learn more check out 
all our mask drive updates
. You can also 
hear about Heart of Dinner's mission
 from the initiative's founders, Yin Chang and Moonlyn Tsai.