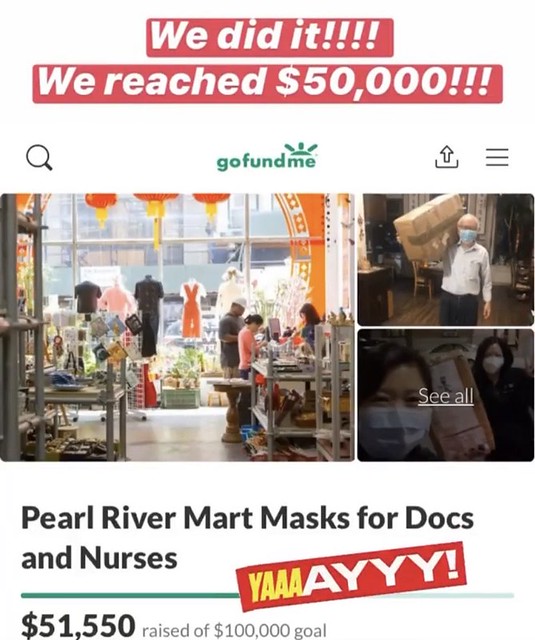 Pearl River Mask Drive Update: $50,000 in 6 Days!
You contributed $50,000 in 6 days, and our hearts couldn't be more full! THANK YOU!!

We are overwhelmed by the generosity of the Pearl River Mart community. We know that everyone is hurting financially — ourselves included — so these gifts carry even more meaning. We are resolved to make every dollar count for our doctors and nurses and frontline workers, and have been thinking about how we can keep the momentum going to support our beloved NYC.

We have partnered with our dear friend F&T Group, a longtime NYC real estate business with deep ties to the Asian American community, to bring in a much larger shipment of 30,000 KN95s that is set to arrive mid-April. Due to demand, pricing for KN95s has been fluctuating wildly. Including shipping and fees, we expect to pay about $2.50 per mask for this incoming shipment, so will need to raise approximately $75,000-80,000.

As a small business owner, it is a privilege to be a part of the vibrant fabric of the city. Nothing brings us more joy than welcoming someone into the store, helping them find what they need (and maybe a couple things they don't, heh heh), and greeting them again and again as they return and become regulars. I know many of my friends who own restaurants, bars, dry cleaners, specialty food shops, bookstores, salons etc. feel the same way, and it has been painful to close our doors, lay off our employees, and not know if we will ever see our customers again.

These worries are for another day though. The medical community needs our help, and small business owners know how to get things done.

We are delighted that some of our favorite local businesses are joining us to help spread the word to their communities. Shout out to:

Calligaris NYC 
Fat Witch Bakery 
Manhattan Fruit Market 
BLACKBARN Shop 
Takumi Taco 
Tea and Milk 
Hanky Panky 
Covry 
Foremost Groups 
10 Thousand Foxes Tattoo 
Nom Wah 
Chelsea Market 
Zach & Zoe Sweet Bee Farm 
These businesses are all hometown legends, and we're sure you may be obsessed with one or more of them, as we are. Thank you in advance to their loyal customers and friends for helping to fund crucially needed protection for our frontline workers. Feel free to encourage your favorite small business to help spread this link — all are welcome!
Let's multiply this $50,000 exponentially NYC! Thanks to you, 30,000 masks are on their way to the front lines!

Joanne Kwong, Mr. & Mrs. Chen, and all of us at Pearl River Mart