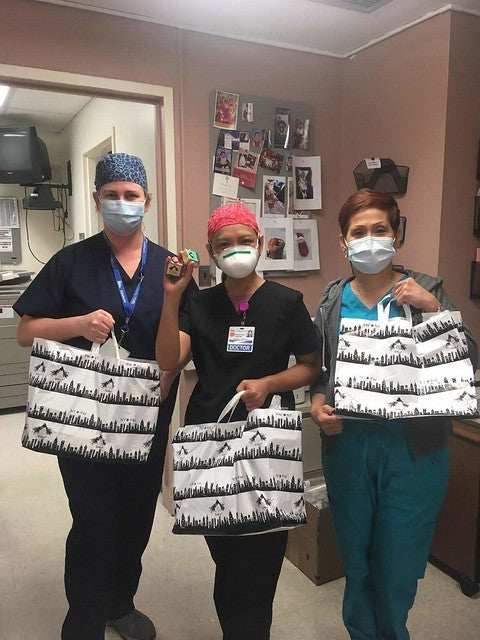 Pearl River Mask Drive Update: Another Dropoff!
Last week, we had the joy and honor of bringing not only PPE to our frontline health workers (500 KN95 masks, 3,000 surgical masks, and 1,000 disposable gloves) but also 1,500 of the best brownies in NYC, baked with love by our dear friends and Chelsea Market neighbors, Fat Witch Bakery. If you haven't tasted these brownies, you haven't lived! They're delivering, so please do check them out!


NYC Councilmember Carlina Rivera and US Congressmember Grace Meng have been guiding us throughout this entire process, helping us to determine where masks and other PPE are needed in real-time whenever we are ready to make a drop. This time, CM Rivera, who is Chair of the NYC Council Committee on Hospitals, told us that PPE is still greatly needed at Elmhurst Hospital, and encouraged us also to consider community health centers who perhaps receive less attention than the hospitals. This of course makes great sense so we decided to split our supplies between Elmhurst Hospital and the Charles B. Wang Community Health Center, an institutional pillar in Chinatown and Flushing, and an invaluable resource for the predominantly immigrant communities it serves.

Our small business colleagues continue to inspire us with their generosity! Foremost Groups, Inc., based in East Hanover, NJ, has already extensively donated PPE to hospitals throughout New Jersey, but added boxes of masks and gloves to our collection. Tea and Milk, who make the most delicious bubble tea, and Ten Thousand Foxes, a tattoo design studio, are storefront neighbors in Astoria and reached out to add surgical masks to our drop. Chelsea Market, who has been a wonderful landlord to us and community anchor, surprised us with an incredibly generous donation.
For a full list of small business supporters, please visit our GoFundMe page. And if we've missed you somehow, please message us! We are thankful and buoyed by the overwhelming support for our healthcare heroes.

Extra special thanks go to CM Rivera and Vivian Chen of Foremost Groups for helping to deliver the supplies and brownies in a driving thunderstorm!
And of course many thanks to the brave, hardworking staff at Charles B. Wang and Elmhurst, especially Dr. Olivia Ghaw, who now no longer has to sneak the PPE in! We're legit now!


The global market for masks and PPE remains wild and unregulated. In addition to the 30,000 masks that are still in limbo, we placed several other smaller orders to increase our odds of delivery. Some have gotten through and some have not as of yet. For example, we had a smaller order via Japan get confiscated. Another smaller order from China got through (which we delivered), and we just received word that another order we placed from China should hopefully be making its way to us by next week.

We look forward to keeping you updated. Until then, don't forget Mother's Day is Sunday, May 10! If you need some ideas of what to get Mom, check out our gift guide and Mother's Day collection. 

Jia You New York! Please continue to spread the word!

Joanne Kwong, Mr. and Mrs. Chen, and all of us at Pearl River Mart