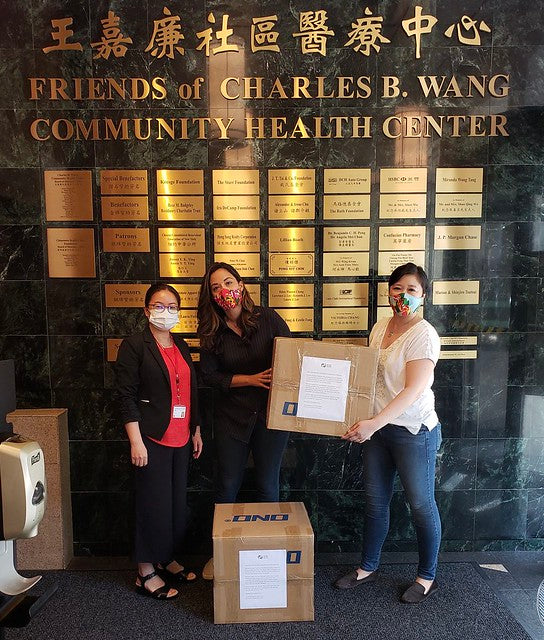 Pearl River Mask Drive Update: Next Tier of Front-Liners
Dear Friends,
Apologies for the delayed update! Like most small businesses in NYC, we have felt a bit of whiplash these past few weeks, navigating through a radically changed world as well as figuring out what Phases 1 and 2 look like for our team and customers. The good news is that we're open! Our Tribeca/Chinatown store at 395 Broadway is open every day from 12 to 5 p.m., and our Chelsea Market store is open Friday to Sunday from 12 to 5 p.m. We hope to slowly be able to add hours and get back to normal operations.
In early May, after much wrestling with customs in both China and the U.S., we and F&T Group, our friends and partners in this mask drive, received two long-awaited shipments, totaling 21,100 KN95 masks. It was a joy to check in with our friend Dr. Olivia Ghaw at Elmhurst Hospital and learn that most hospitals' supply of PPE had finally stabilized. Dr. Ghaw reported that the doctors, nurses, and personnel at Elmhurst at last had enough PPE to safely do their jobs. It meant so much when she remarked that to this day, her residents still remember how relieved they were to receive the two deliveries of masks we were able to get through in the dark days of early April. We made a difference, everybody! 
Since the hospitals are doing okay, we turned to the next tier of front-liners — those working in community health clinics, those feeding the homeless and senior citizens, and those supporting us spiritually in this confusing time of grief, anger, and anxiety. We have completed deliveries of 15,000 masks this round to a number of organizations, including:
Thanks to longtime Pearl River employee Lance Eisenberg!
Thanks to NYC Council Member Carlina Rivera!
Thanks to NYC Council Member Carlina Rivera.
Thanks to NYC Council Member Carlina Rivera.
FDNY EMS
Thanks to Helen Lee at F&T Group and NYC Council Member Donovan Richards!
NYC Department of Corrections Chaplain Unit
Thanks to Chaplain Justin von Bujdoss!
Clergy in Bedford-Stuyvesant and Crown Heights
Thanks to NYC Council Member Robert Cornegy, Jr. and Chief of Staff Sarissa Phillips-Singletary!
Thanks to Apicha medical assistant Sabrina!
Heart of Dinner
, serving meals to homebound Chinatown seniors
Thanks to co-founder Moonlynn Tsai!
Images via @heartofdinner
Every one of these organizations deserve all the support we can give. 
Speaking of inspiring, we have to give two special shout-outs: first, to our dear friends at Hanky Panky, creators of "the most comfortable thong in the world," who pivoted to create beautiful masks out of their signature fabrics and donated a portion of the proceeds from their first 500 masks to our drive, raising $2,500! Thank you Lida Orzeck and Gale Epstein of Hanky Panky! 
Second, thank you to the brothers of Pi Delta Psi from NYU, RPI, and UConn, who — in the midst of their collegiate distance learning — came together to add $3,800! There was even some head-shaving involved! Thank you to James Peng and the entire Pi Delta Psi family for your generosity.
We still have a few more drops to complete, and then we'll be tallying up everything to wind down this fundraiser. THANK YOU THANK YOU THANK YOU to everyone who made these donations possible. You all represent the very best of NYC. As always, Jia You New York! We made it to the other side.
(But of course, must remain vigilant!)
Joanne, Mr. & Mrs. Chen, and all of us at Pearl River Mart