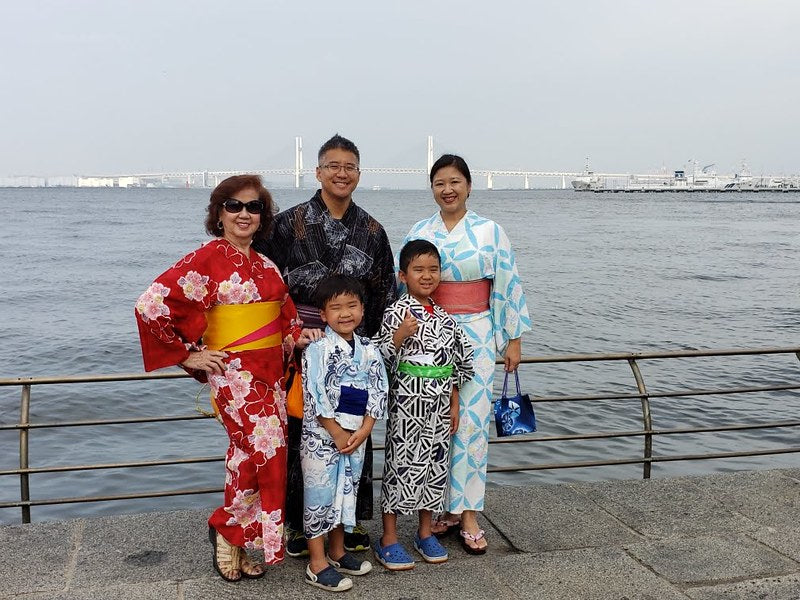 Pearl River in Japan: Fun Times and Fun Facts, Part 1
Konnichiwa! As you may know, we've been on a sourcing trip for the past couple of weeks. In addition to having fun, we've had lots of random observances. Here are just a few!
The Japanese really know how to celebrate their ancestors
Don't get us wrong: we love the Hungry Ghost Festival, but the Bon Festival is great fun too. Falling on the 15th day of the seventh lunar month, this holiday involves family reunions, the cleaning of ancestors' graves, a special dance or "odori" —
— and general shenanigans.
It also includes wearing a yukata, a casual kimono. Originally worn as a bathrobe — the word literally means "bath clothes" — it's now primarily worn in the summer months for festivals.
How do we look?
Japanese baseball fans are at a whole other level
The players aren't the only professionals at a Japanese baseball game. Think you can cheer willy-nilly? Nope: only when your own team is up at bat. Then it's well-rehearsed chants and even a theme song.
Another tradition is rakii sebum or "lucky seven," Japan's version of the seventh inning stretch. Instead of singing "Take Me Out to the Ballgame," fans of the visiting team blow up and release colorful balloons. At the end of the game, if the home team wins, fans release white balloons.

And guess what: the Buffaloes won!
Special shout-out to these hard-working women, non-stop pouring beer and always with a smile.
The Pokemon Center in Tokyo is Pikachu fan heaven
A must-stop for us was the Pokemon Center Tokyo DX, one of the biggest and newest places for all things Pokemon (they even have a cafe).
We were very excited to learn they had Pikachus that are only available at that location, including:
Sumo Pikachu ready to rumble!
Ninja Pikachu, sneaking around with a smile.
A Piakchu wearing a classic kimono hakama outfit (hakama are a kind of traditional Japanese trousers).
A hikeshi "firefighter" Pikachu from Edo-era Japan (1600–1868). Back in the day, fires were so frequent that in the city thereafter known as Tokyo that it was nicknamed the "City of Fires."
A "gentleman" Pikachu, an homage to the iconic "Ivy League fashion" popular in 1960s Tokyo and created by Kensuke Ishizu, fashion icon and "godfather of Japanese prep."
Japanese bullet trains have spoiled us for all other public transit
That's it: no more riding the subway until it becomes a bullet train. We're kidding of course, but we're not joking around when we say we loved riding the shinkansen from Tokyo to Osaka. And because we're total densha otaku, or "train nerds," the only thing we loved more were fun facts about the trains themselves.
The average delay per train in 2012 was 36 seconds. Not minutes: SECONDS. (Hear that MTA, NJ Transit, and Amtrak?) Despite its high speeds, the shinkansen has had zero fatalities in its 50-year existence.
Like everything in Japan, the shinkansen is hella clean. That's thanks to the "7-minute shinkansen theater," an incredible cleaning crew who busts their butts to get each train spic and span in seven minutes flat. That's in addition to greeting each passenger as they deboard and collecting their refuse in garbage bags. See this seven-minute miracle in action.
The food is crazy good and cheap — except for the fruit!
Needless to say we enjoyed nearly single meal in Japan, from ginormous sushi rolls —
— to unbelievably melty wagyu —
— to okonomiyaki, a kind of savory pancake —
— to takoyaki, fried balls of octopus goodness.
The only thing we didn't try was the fruit, not that it didn't look mouth-wateringly gorgeous —
But it was all insanely expensive. For instance, that melon "set"? 7,560 yen or $71! Each apple? Seven bucks!

Why so pricey? Fruit is thought about differently in Japan. Rather than just a healthy snack, fruit can be considered beautifully packaged gifts. And because of strict regulations from the Japan Agricultural Cooperative, you'll only see perfectly shaped, unblemished specimens in stores like these.

Stay tuned right here for even more Japan adventures!
To also keep up on new products, events, and everything Pearl River, follow us on
Instagram
.