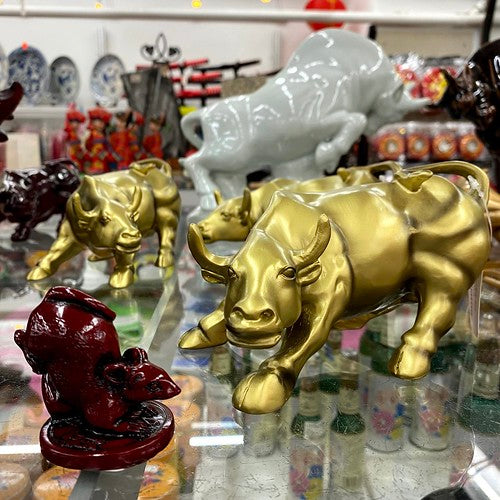 The Year of the Ox: Everything You Need to Know
With the Year of the Rat almost over (and many of us breathing a sigh of relief), the Year of the Ox is next, beginning Feb. 12. Until then enjoy our guide to everything you need to know about this hardworking bovine.
When is the Year of the Ox?
This year! More specifically, Feb. 12 until Jan. 30, 2021. Because the Chinese zodiac runs on a 12-year cycle, your animal comes up every dozen years. Still not sure if you're the Year of the Ox? Check out our handy zodiac chart.
Kindness killed the ox's chance of winning
When the mythical Jade Emperor decided he needed some new animal guards, he called a great race to determine their order. While the wily rat knew he was a good swimmer, he also realized he was much smaller than the other animals. That's when he got the idea to rope in his friend the ox.
The rat suggested they swim together and share first place. The dependable ox agreed, letting the rodent ride on his head while he swam across a wide river. However, when they reached the bank, the rat jumped off first, beating the ox by a nose.
The ox's personality
While the rat is cunning, observant, and somewhat opportunistic, the ox is more the strong silent type. Diligent, dependable, and trustworthy, they're also good at staying focused at the task at hand and not letting outside factors influence them. While the rat might look for clever shortcuts, the ox achieves their goals through patience and hard work. 
However, the ox can often be too quiet. Communication isn't their strong suit, and stubbornness and reluctance to change might overshadow new ideas. On the serious side and not naturally sociable, the ox might come off as dull, but they greatly value the few friendships they do have.
What's up for 2021?
When your animal year comes up in the 12-year cycle of the Chinese zodiac, that's called ben ming nian. During that time, it's believed that you're more vulnerable to adversity. While some sources say that this year people born the year of the ox will reap the benefits of their hard work, others warn to:
Be prepared for rapid changes at work

Focus on improving oneself rather than seeking fruitless romantic relationships

Try to be thrifty and not overspend

Not engage in risky physical activities but take up those that might be soothing such as taichi or yoga
To turn up the luck, it's recommended that oxen wear something red at all times, whether it's underwear (you read that right) or a bracelet. Also keep in these lucky and unlucky elements:
Numbers. Lucky numbers for those born the Year of the Ox are 1 and 4. Unlucky numbers are 5 and 6.
Colors. Dress and surround yourself with white, yellow, and green to stay lucky. Meanwhile, stay away from the color blue.
Directions. Oxen's lucky directions are north, south while their unlucky direction is southwest.
Famous oxen
Celebrities, they're just like us! If you were born the Year of the Ox, you might want to know what famous people share your birth year.
1925. Those born in this Year of the Ox include former First Lady Barbara Bush, former British Prime Minister Margaret Thatcher, actor Paul Newman, talk show legend Johnny Carson, entertainer Sammy Davis, Jr., and civil rights activist Malcolm X.
1937. Oh my, it's your ben ming nian, George Takei! Happy Year of the Ox to the actor, author, and activist. Other notable oxen include actors Warren Beatty, Morgan Freeman, and Jane Fonda, as well as Madeleine Albright, the first woman to be appointed U.S. Secretary of State.
1949. Iconic fashion designer Vera Wang leads the herd of well-known oxen born this year. Others include actors Jessica Lange, Meryl Streep, and Sigourney Weaver; musicians Billy Joel, Gloria Gaynor, and Bruce Springsteen; chefs and restauranteurs Nobu Matsuhisa and Wolfgang Puck; Vogue Editor-in-Chief Anna Wintour; and U.S. Senator and Presidential candidate Elizabeth Warren.
1961. This ox year saw the birth of President Barack Obama, NYC mayor Bill de Blasio, and Diana, Princess of Wales, as well as musicians Enya, Melissa Ethridge, and Boy George; Hong Kong pop star legends Jacky Cheung and Andy Lau; Booker-Prize-winning author Arundhati Roy (The God of Small Things); designer and filmmaker Tom Ford; and actors George Clooney, Eddie Murphy, Meg Ryan, and Lauren Tom (The Joy Luck Club, Andi Mack).
1973. Happy ox year to journalist Lisa Ling, former Yankees baseball players Ichiro Suzuki and Johnny Damon, and founder of Lainey Gossip, Elaine Lui. Other well-known oxen from this year include Big Tech founders Larry Page and Sergey Brin, journalist Rachel Maddow, musician Pharrell Williams, comedian Dave Chapelle, and model-and-fashion-mavens Heidi Klum and Tyra Banks.
1985. If you were born this year, you're in good company: musician Bruno Mars, comedian Hasan Minhaj, and model and cookbook author Chrissy Teigen are just a few fellow oxen. Others include Olympic swimmer Michael Phelps, musician Janelle Monae, actor Keira Knightley, and Wonder Woman herself Gal Gadot.
1997. These impressive young oxen include world-class athletes Naomi Osaka and Simone Biles, singer Jungkook of BTS mega-fame, and the youngest Nobel Prize laureate to date, activist Malala Yousafzai.
Want even more? Check out
all our Lunar New Year posts
.