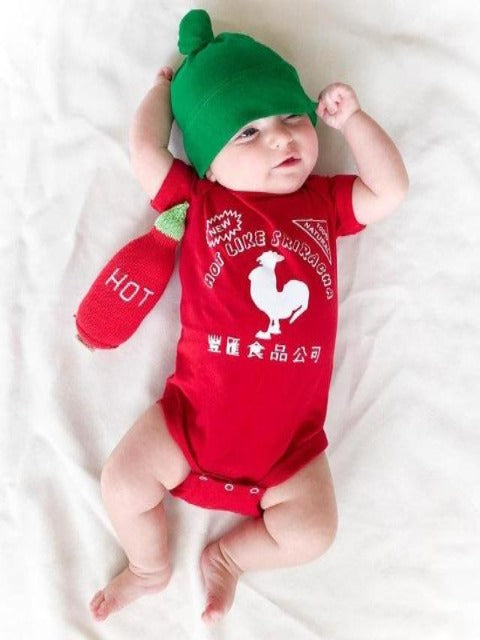 Sriracha Rooster Onesie Set
$42.00
For mamas and papas who put hot sauce on their hot sauce. Original design from Buzz Bear Studio is hand pressed onto soft 100% cotton Rabbit Skins brand bodysuit. Made to last! Includes hat.
Sizes:
Newborn

 — For ages 0-3 months, 7-12 lbs

 
6 months — For ages 3-6 months, 12-17 lbs
12 months — For ages 6-12 months, 17-22 lbs
18 months — For ages 12-18 months, 22-28 lbs
Some Sriracha sauce fun facts:
Sriracha sauce is named after the coastal city of Si Racha, Thailand, where it was first produced for dishes served at local seafood restaurants. Thus "Sriracha sauce" is really a generic term, like "Worcestershire sauce." 
Within the United States, sriracha is often associated with a sauce produced by Huy Fong Foods. 
The name Huy Fong comes from a Taiwanese freighter that carried the founder David Tran and 3,317 other refugees out of Vietnam in December 1978.
How about that rooster? It comes from Huy Fong Foods founder's Chinese zodiac sign.