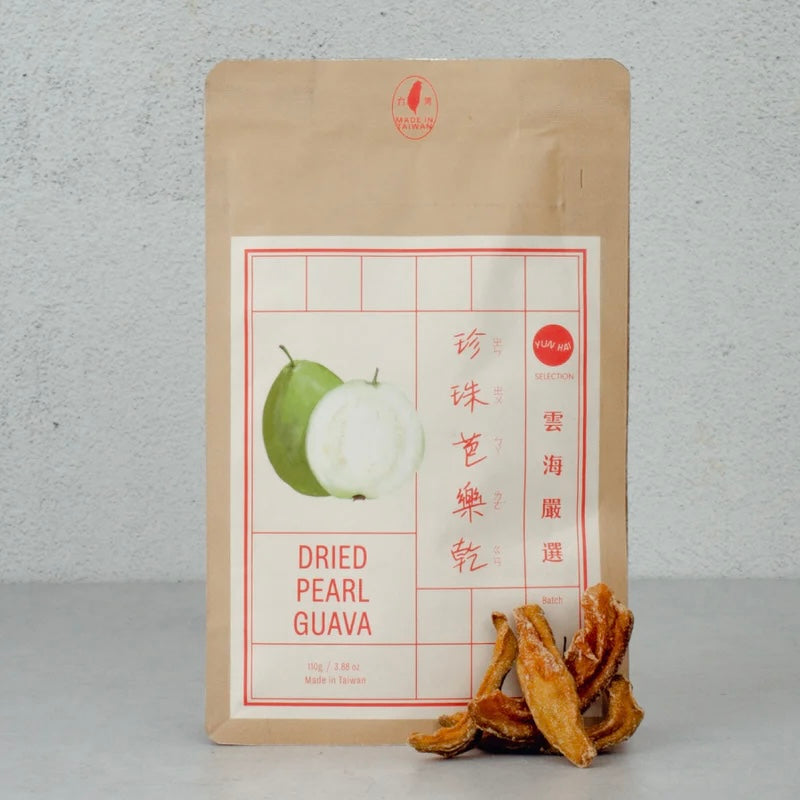 Yun Hai Selection Dried Fruit Pearl Guava
$10.00
NYC-based small business Yun Hai 雲海 offers a selection of premium ingredients for Chinese and Taiwanese cooking, sourcing directly from artisans, farms, and soy sauce breweries in Taiwan.
Pearl Guava is incredibly fragrant but has so little sugar that Yun Hai needs to add a touch to their dried version to ensure it's properly preserved. Delicious with a cup of oolong tea.

This product is part of a line of dried fruit that Yun Hai created in March 2021 when China banned imports of Taiwan pineapples nearly overnight, wiping out 90% of Taiwan's export market and leaving farmers scrambling to find buyers. Yun Hai works directly with farmers and farmer-owned coops to source, purchase, and package the fruit.

How Yun Hai's Taiwanese dried fruit is different:
They source from independent farmers and coops in famed growing regions, and know which harvest each batch of dried fruit is coming from.
After harvest, the fruit is washed, pared and cut, then brought immediately to local drying facilities, where the application of heat can be controlled. Keeping the temperature low preserves the most texture and flavor.
The fruit is sugar free (except for guava and green mango, which require some sugar to be properly preserved) and contains no additives, sulfur, colorants, or preservatives.
The fruit is sliced thick, not chopped into pieces, reducing surface area and keeping as many flavors, nutrients, and juices inside as possible.
And of course the taste! The aromas and flavors immediately create a sense of nostalgia for Taiwan.
110 g

Ingredients: Dried Pearl Guavas, Sugar, Salt

No Added Sugar, Additive Free, No Preservatives

Processed in a facility that handles mangoes

Best by printed date

Store in a cool, dry place

This product is all natural. Expect variation in size and color of the fruit pieces in each bag.