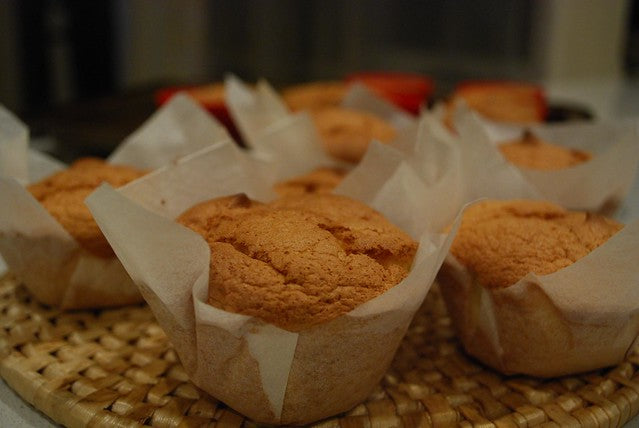 Six Delicious Things You Might Not Know About This Chinese Pastry
Puffy. Eggy. Mildly sweet. You might know it well: the Chinese sponge cake. Aug. 23 is National Sponge Cake Day, and we're celebrating with six flavorful fun facts about one of our favorite Asian desserts.
They're mostly steamed, not baked
Cantonese sponge cake, often served with dim sum
Unlike Western-style cakes, Chinese sponge cakes aren't baked in an oven but are typically steamed in a wok or bamboo steamer. However, some nowadays, especially in the U.S., are baked.
They often come wrapped in paper
If you know sponge cakes, you'll know the feeling of peeling off the paper before taking that first, delectable bite. That's because they're steamed or baked in paper holders. Hence, their other moniker, paper-wrapped cakes.
They're also called egg cakes
Quite simply because eggs are one of the main ingredients, along with flour, sugar, baking soda, and salt.
But don't get them mixed up with another kind of egg cake
Egg cake waffle with fruit and ice cream
There are the egg cakes that are big and puffy. Then there are the ones that are small and, well, puffy. Like melon balls of goodness, they start as a kind of bubbled waffle and can be eaten as such or broken into bite-sized pieces. While the mildly sweet flavor might be similar to the sponge cake, these egg cakes aren't steamed but grilled. We, for one, have room for both kinds.
One of the most famous egg cake makers was Cecilia Tam, known as the "egg-cake lady of Mosco Street." In the 1980s and '90s, her modest red food stall in Manhattan's Chinatown attracted lines that wrapped around the block. Unfortunately she closed up shop back in the early 2000s.
They're mentioned in English texts as early as 1860s
While they were probably around long beforehand, Chinese sponge cakes have been referred to an English texts since at at least 1860. In this British book set in Beijing, the author notes a man who became "celebrated amongst the troops for his sponge cakes." This book about life in China discusses the custom of gifting guests each with "a present of a sponge-cake and various kinds of sweet cakes." 
This 1868 biography of Schuyler Colfax, a former U.S. vice president, describes a meal in a San Francisco Chinese restaurant which included such dishes as sea-weed, stewed ducks and bamboo soup, and sponge cake.
Our favorite Chinatown sponge cake shop has been open for 35 years
Pearl River employee Tiffany enjoys some Kam Hing sponge cake
The "Best Sponge Cake in Town," their sign proclaims, and we have to agree. We've long been fans of the New Kam Hing Coffee Shop, which offers sponge cakes in the moister, less puffy variety. Started in the early 1980s, the family-run business is now in their third generation. While the shop has expanded in both their square footage and their menu, the original recipe of their delectable sponge cakes hasn't changed. "Only the family knows it," says Elizabeth Yee, who runs the shop with her father. 
You can hear more about the history of Kam Hing in Elizabeth's interview with the New York Public Library's Chinatown Legacy Project.
Have a hankering for sponge cakes? Head on over to Kam Hing and tell them Pearl River sent you. You can also learn more about other Asian treats.
[Images all via Creative Commons (CC BY 2.0): "Paper-Wrapped Sponge Cakes" by Alpha; "千層馬拉糕 (Cantonese sponge cake)" by Dennis Wong; Nahaufnahme zeigt eine gerollte Blasenwaffel mit Eis und Erdbeerstückchen by Marco Verch]