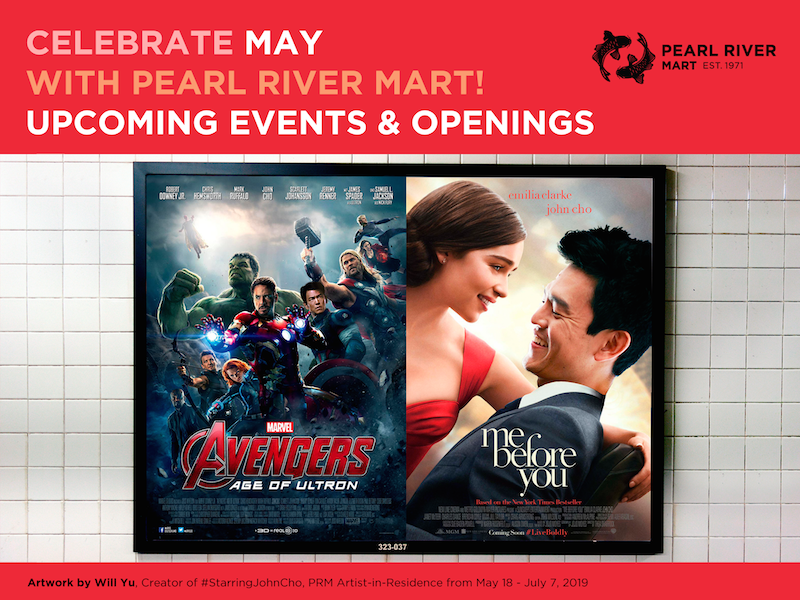 Pearl River Events: Join Us for APAHM and Design Week
May is almost here, which means lots happening at Pearl River, namely some fun events and openings for Asian Pacific American Heritage Month and NYCxDESIGN. Check them out!
Taiwanese American Professionals: The Amazing TAP Race (Chelsea Market)
— Saturday, May 4, 1 to 4 p.m.
Like puzzles, Asian culture, and exploring New York City? You'll love The Amazing TAP Race from the Taiwanese American Professionals group. This scavenger hunt will have you running around different locations throughout Manhattan — including our Chelsea Market store — and completing tasks for some fun prizes. Open to everyone. You can learn more and sign up at the TAP website.
"Build a Hero" Workshop with Comic Book Artist Jerry Ma (Museum of Chinese in America)
—

Sunday, May 5, 2 to 3 p.m.

It's a bird, it's a plane — it's your very own superhero! We're so proud to be co-sponsoring this event with the Big Brothers Big Sisters of America (BBBS) and the Museum of Chinese in America. Jerry Ma, the creator behind the Asian American comic book, Legend, will be leading a "build a hero" workshop in which participants will create an original superhero. While this event is only open to BBBS matches, you'll still be able to purchase Jerry's new book, Secret Identities: The Asian American Superhero Anthology, in store and online.
Next Level Designer Showcase: Opening Reception (718 Broadway, between Washington & Waverly)
—

Friday, May 17, 7 to 10 p.m.

We're so excited to be collaborating with Next Level on their upcoming designer showcase for NYCxDESIGN. You'll see the design cooperative's lower level transformed into an installation of over 70 of our paper lanterns painted by NYC artists. You can RSVP to the opening reception at info@next-levelnyc.com. The exhibition will be open to the public May 18 to 24.
#StarringJohnCho: Art Exhibition Opening Reception (TriBeCa)
—

Saturday, May 18, 5 to 7 p.m.

It's not just a hashtag — it's a cultural movement. Screenwriter, creative strategist, and cultural activist William Yu started the #StarringJohnCho project to address the lack of Asian American representation in Hollywood and to bring to life the idea of an Asian American leading actor. Now you can see in person what movies like The Avengers, Jurassic World, and (500) Days of Summer would look like with an Asian American star. You can also become a superhero yourself with an interactive portion. Free and open to the public.
Banana Magazine Issue 5 Launch (Canal Street Market) 
— Saturday and Sunday, May 18, 11 a.m. to 7 p.m., and Sunday, May 19, 11 a.m. to 6 p.m.
Collab alert! Asian American lifestyle and culture publication Banana Magazine is launching their fifth issue, and in celebration we'll be unveiling some PRMxBanana merch! Stay tuned for details.
Please note we're still in the process of adding details. Be sure to check back again!