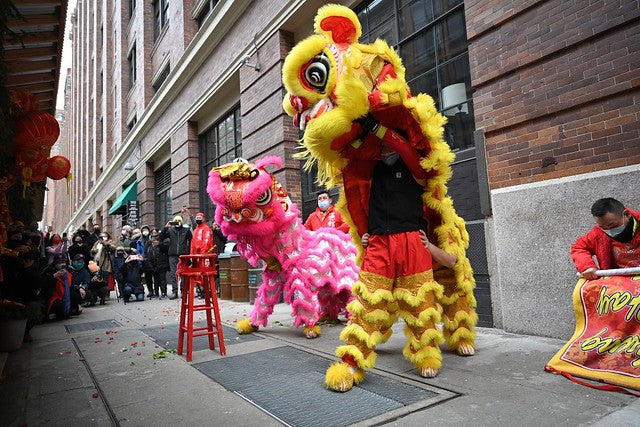 Lunar New Year 2021: Very Different But No Less Epic
Our Lunar New Year annual extravaganza was very different this year but no less EPIC! Of course none of it would have happened without an incredible group of friends, partners, and collaborators. Many many thanks and shout-outs to:
Chelsea Market, especially Kevin Hussey and Bunny Laughlin

, for always making our crazy ideas happen

Very Fresh Noodles, 

especially Chefs Victor Huang and Peter Trondeau 

who are always down to collab and kick everything up five notches

Our Pearl River Mart Foods family — Mao's Bao, Kimbap Lab, Tea and Milk, and Kitsby

 — for creating amazing new recipes to excite a sold-out crowd of over 200 guests, despite blowing a few fuses along the way 😰

Our drink vendors Brooklyn Crafted and Lunar Hard Seltzer

 for their generous drink sponsorship. Major shouts to Kevin Wong and

 and Sean Ro 

of Lunar for joining the fun and providing actual table service outside!!!! Their recently launched lychee and plum flavors are 💣💣

Our neighbors Buddakan and Lobster Place 

for making the celebration an entire 16th Street affair and also for feeding our team and dancers since we were running around like mad serving guests 🙏🙏

Our superhuman event producer Kiki Suhadi of Olivo & Co. 

who kept us organized and sane

Our own Jeff Van Damme 

for the gorgeous Lunar New Year event decor in, around, and outside Chelsea Market!

The dream team Kiki, Bunny, Joanne

, Angela, Joey

, Jade, Caroline, and

Lynlia

 … we got an on-the-fly crash course in food hospitality and made it all happen!

The entire PRM family for keeping the stores running and mail orders flowing non-stop since Black Friday

Our deepest gratitude to the entire Wan Chi Ming Dragon Lion Team, especially 大哥 Warren Wan for bringing the team out of pandemic retirement for this performance
And of course thanks to all you who came out to celebrate with us! We hope you had a festive and delicious time.
Happy new year blessings to all!
[Photo by Luis Ruiz]