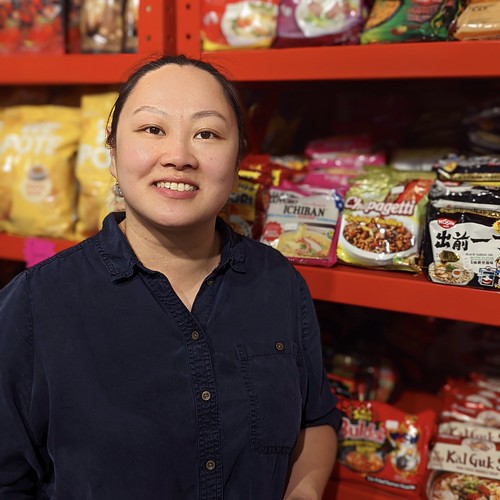 Meet Judy Ong: Welcome to the new manager of Pearl River Mart Foods!
We have a slew of wonderful employees, and today we're highlighting just one of them: Judy Ong, the new manager of Pearl River Mart Foods. We had the chance to chat with Judy about her culinary career, what it was like to serve American Southern cuisine to English people, her fondest food memory, and more.
Where did you grow up?
I spent the first 12 years of my life in Chinatown and the Lower East Side. I've also lived in Queens and went to high school in the Bronx.
How did you get into the food business?
Growing up I was really into food. The Food Network had just premiered. We had just gotten cable. I even flirted with idea of culinary school but didn't go because, you know, Asian parents. [Laughs] After college graduation [from Smith] and moving out on my own, I got into cooking for myself. 
Then I moved to London. By then I had married my husband. He came up with the crazy idea of opening a restaurant although neither of us had worked in hospitality. That kickstarted my chef's career. When we first opened, I had no formal training. I just worked closely with head chef. Three years in, I thought, I can do this on my own now. I took over the kitchen and it was mine and ours.
What kind of restaurant was it?
It was an American restaurant called The Fat Bear. We focused specifically on regional Southern cuisine. It was more geared for soul food and comfort food. It was also coupled with a more elevated beverage program with wines and cocktails, which was a fun juxtaposition. 
How did people react to it?
It got a really good reception. The extent of American food English people were familiar with was mostly barbecue and burgers, but that was about it. No gumbo or jambalaya. Now maybe there's more of that, but when we opened, people thought it was new. It was also a popular destination for expats who often wanted something comforting and familiar.
When did you come back to the U.S.?
When the pandemic hit, the restaurant shut down. Then we decided to shut down permanently and move back to New York, landing in February of this year. Hopefully we can eventually go back to London.
What's your fondest food memory from when you were a kid?
That would have to be the Sunday dim sum family affairs. I have a huge family and every weekend we'd gather with grandparents, aunts, uncles, and cousins, and go to Chinatown and have dim sum. We don't do that anymore. People have grown up and moved away. My grandparents have passed. So I hold onto that as a happy childhood memory.
What's your go-to comfort good?
Fried rice. It doesn't necessarily need to have Chinese ingredients. I'll chuck in whatever I can find. It's definitely my go to meal. I have a huge capacity for fried rice. 
What would you choose for your last meal on earth?
A double bacon cheeseburger.
What's a food city that you've been missing and would like to visit again?
When I was in London, I'd miss New York. I'd crave things like an everything bagel with cream cheese or a slice of pizza. Also New Orleans because we would travel there for research. It's such a beautiful place. Great good, great drinks, great people. It gives me a lot of good feelings and nostalgia.
What's something you're obsessed with now? Something you tell people you must eat/read/watch/listen to this?
Outlander. I'm really into it. [Laughs] In terms of food, I'm really into ham. We moved into a neighborhood that has a ham bar. I'm eating my way through the menu.
Do you have memories of Pearl River?
When I talked to my dad about this job, he said, "I remember them on Catherine or Elizabeth Street." In high school, I'd go to the one on Broadway and Canal. After school my friends and I would go downtown, hang out, walk around. And we'd always hit Pearl River.
Check out more of our entrepreneur interviews.