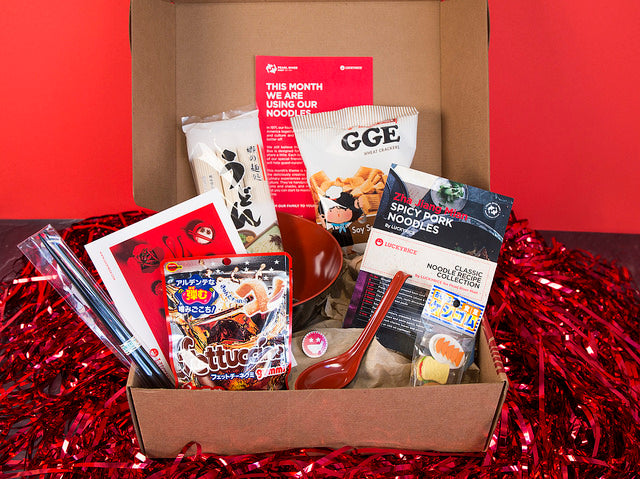 Our Latest Friendship Box: Oodles of Noodles!
We're so excited to reveal our latest Friendship Box!
Our Friendship Boxes bring you fun Asian treats and treasures every other month. Each box has a theme and this time it's noodles, guest curated by our friends at LUCKYRICE. 
Lucky us — we got LUCKYRICE!

The super-creative LUCKYRICE team curates food experiences around the world, including Food Feasts and Slurpfests (can you eat a bowl of ramen in 13 minutes?) in New York, Los Angeles, Miami, San Francisco, and more. You can also find founder Danielle Chang on bookshelves with Lucky Rice: Stories and Recipes from Night Markets, Feasts, and Family Tables and on PBS with her show, Lucky Chow: Stories of Asian Culinary Culture.
Some noodle-tastic novelties
Want to experience LUCKYRICE's enthusiasm for noodles? You're in luck. In our latest Friendship Box, you'll get four exclusive LUCKYRICE noodle recipes, some of which aren't even available in Chang's book.
We've also included some tools to get you started on your noodle adventures, and a few things just to make you smile, including adorable notecards from artist and author Felicia Liang, whose book, #100Daysians, explores what it means to grow up Asian American through whimsical drawings and descriptions that will strike a chord with many an American-born Asian (haw flakes, anyone?).
Get your box now
It's easy! Just order on our site or stop by our store.
What would
you
like to see in the next Friendship Box? Let us know at pearlriver@pearlriver.com.