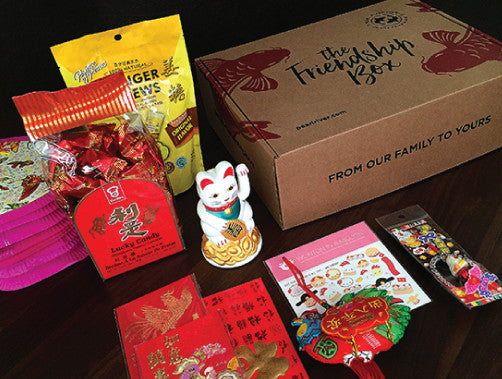 Welcome to Our Inaugural Friendship Box!
In 1971, our founders believed that they could bring Asia and America together through friendship. That by sharing food and culture and a spirit of mutual curiosity, we'd all be better off.
We still believe this wholeheartedly. So every Friendship Box is designed for you to learn a little, nosh a little, and share a little. Each box has a theme, and special friends — chefs, designers, entrepreneurs — help guest curate!
The theme of our inaugural Friendship Box is the Lunar New Year, the biggest holiday in Asia — like July 4, Thanksgiving, Christmas, Chanukah, the Super Bowl, and New Year's Eve all rolled up into one crazy, 15-day celebration. Distilled to its essence though, the holiday is about food, family, and fresh beginnings.
It's also about good luck, and you'll find plenty of that in this Friendship Box, from sweet ginger candy for a sweet year, red envelopes for lucky money, a lucky cat, plenty of rooster decorations and charms for the Year of the Rooster, and more!
Get
your box
now. Until then, happy Year of the Rooster Everyone! May you and your family enjoy peace, joy, good health, and prosperity!