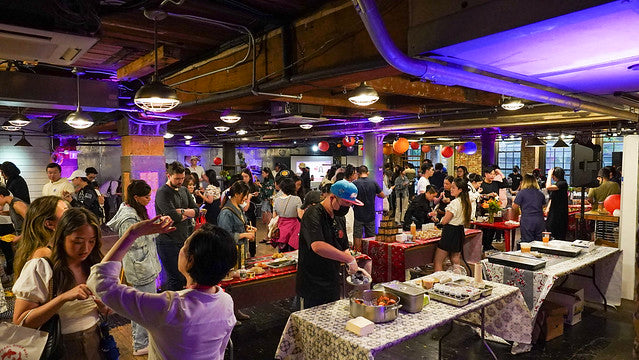 AAPIHM 2023: Art Exhibitions, A Sunset Celebration, and More Fun Treats
It's almost May, which means Asian American Pacific Islander Heritage Month (AAPIHM) is right around the corner!
Occurring every May, AAPIHM was officially designated by Congress in 1992. May was chosen to commemorate the arrival of the first Japanese immigrants to the U.S. on May 7, 1843, and to mark the anniversary of the completion of the transcontinental railroad on May 10, 1869. The majority of the workers who laid the tracks were Chinese immigrants. 
Now AAPIHM is celebrated all over the country as a way to share and remember our histories and accomplishments, but also to support the current Asian American Pacific Islander (AAPI) community. 
This is how we're doing it this year!
JUST BETWEEN US: From the Archives of Arlan Huang
Presented in partnership with Think!Chinatown, this exhibition features just some of the artwork from the vast collection of acclaimed artist Arlan Huang. Arlan's collection traces his time in the Asian American arts network, Godzilla, and the Chinatown-based collective Basement Workshop. Featured artists include Tomie Arai, Ken Chu, Corky Lee, Alex Paik, Hoyt Soohoo, Bob Hsiang, and Martin Wong.
Curated by Howie Chen and Danielle Wu, JUST BETWEEN US is made possible thanks to support of the State of New York and New York State Council on the Arts. It is also supported, in part, by the Lower Manhattan Cultural Council. Accompanying the exhibition is a catalog published by Pearl River Mart and Think!Chinatown with an essay by Danielle and an interview between Howie and Arlan.
When: May 4 through August 27. Join us for the

opening reception

on May 4 from 6:30 to 8:30 p.m.

Where: Pearl River Mart Gallery, 452 Broadway (between Howard and Grand Streets)
Learn more about the exhibition.
Meatpacking District Meets JUST BETWEEN US
Starting May 1, you'll get a sneak peek of JUST BETWEEN US throughout the Meatpacking District. Selections from the exhibition will be installed on outdoor tables, giving viewers a chance to learn a bit about early Asian American history in New York.
When: May 1 through May 31

Where: Outdoor tables in the Meatpacking District
CORRIDOR GLANCE: Paintings by Arlan Huang
In Chelsea Market, Arlan has a companion art exhibition which features his own abstract paintings. Presented with the Asian American Arts Alliance, CORRIDOR GLANCE was inspired by Wong Kar-wai's classic film, "In the Mood for Love." Set in 1960s Hong Kong, the film is about romantic longing and fleeting moments, meaningful glances and unheard secrets.
Like the iconic scene in which two almost-lovers cross paths in a narrow passageway under bare lights, Huang's work can be found in Chelsea Market's winding halls. Paintings such as Ember (2019) and Even in the Dark with My Eyes Closed (1990) are steeped in the hot potential of an intimate encounter: whether romance, friendship, or political solidarity.
This initial connection echoes the feeling of shared experiences and confidences evoked by JUST BETWEEN US. Where CORRIDOR GLANCE is the spark that begins the connection, JUST BETWEEN US is the ongoing solidarity.
When: May 1 through May 31

Where: Chelsea Market, 75 9th Avenue (between 15 and 16th Streets)
Learn more about the exhibition.
Second annual AAPIHM Sunset Celebration with Lunar Hard Seltzer, Gold House, and Chelsea Market
Last year we had such a blast with our friends at Lunar, Gold House, and Chelsea Market, we're doing it all over again on May 19 from 6:30 to 9 p.m.
Lunar and Gold House are two leading organizations in the AAPI community. Lunar is an emerging AAPI-owned business that specializes in hard seltzers with unique Asian American flavors while Gold House is a leading Asian and Pacific Islander (API) changemaker community, working to unite, invest in, and promote API creatives and companies. 
Like last year, we'll be offering bites and drinks from some of our favorite AAPI restaurants and food and beverage brands, as well as showcasing fun products from AAPI entrepreneurs. But this year, the setting is getting a glow up! More details coming soon.
When: May 19 from 6:30 to 9 p.m. (with early VIP entry at 6)

Where: Chelsea Market (stay tuned for details!)

How Much: See Eventbrite for ticket pricing
Keep up with everything new by following us on Instagram and subscribing to our newsletter. See you soon!
[Image: Our 2022 AAPIHM Sunset Celebration]