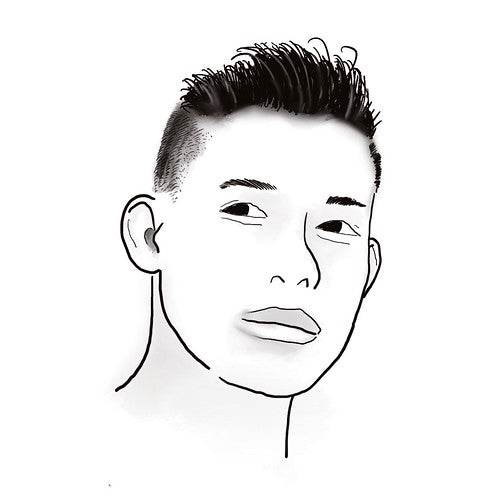 Artist-in-Residence Sammy Yuen: Giving Back to the Community Through Art
Community through art is Sammy Yuen's mission, and in our newest exhibition, DRAWN TOGETHER: STORIES OF RESILIENCE AND RENEWAL IN NYC CHINATOWN, he brings together members of that community through exquisitely detailed illustrations of historic businesses, organizations, and landmarks of the neighborhood. We had the chance to chat with Sammy about how he got into art, his background in martial arts, and why you have to say yes to yourself.
Tell me about your background. Where did you grow up? What was your childhood like?
I was born in New York but moved to Boston when I was two or three. I grew up in Boston — Brookline specifically.
I was always into art. I would come home from school and draw. During the summer my sister and I would watch Bob Ross. [Laughs] My mom was always very supportive. One of my earlier memories is my mom taking me to the art store and buying me scented markers. She herself has always been pretty creative and has supported by creativity. She was also pretty forward thinking. One day when I was seven or eight — this was back in 1982 or 1983 — my parents brought home an Apple IIE, and my mom said, "You're going to do art on this one day." And I was like, "What are you talking about?"
Did you focus on art in high school?
Yeah, I always did well in art but struggled in other subjects. I had this pinnacle moment my junior year. I met with my guidance counselor who looked in my notebooks and saw all these doodles and drawings. So she recommended my attending a summer design course at the Rhode Island School of Design. My parents didn't see art as a career, but during that course, meeting all these graphic designers, I saw the first time that art could be a career.
That changed my philosophy going into senior year. I focused on preparing a portfolio that I could submit for colleges, and ended up going to Syracuse University and studying illustration. I wanted to go to a full university, not just an art school. I was also into sports. I wrestled in high school and was the captain of the wrestling team. I wanted to have a balance of art and sports, and ended up wrestling at Syracuse too.
During my time there, I also had the opportunity to study art history in Florence, Italy. While I was there I bought a biography on Michelangelo, The Agony and the Ecstasy. I read it while at the same time seeing his work in museums and the Medici Chapel. It was really interesting to see how he struggled between his creative side and the work he did for the Medici family. I became really immersed into that whole feeling of being an artist, and was really inspired to pick up the intensity of my work when I came back.
What did you do after college?
After college I struggled with finding a job. There weren't a lot of things out there for artists. I did random things, like designing ads for the Yellow Pages. [Laughs] It was my first art job and it was so boring. It was most the boring job I ever had. Designing ads for things like plumbers. 
I also fell back on other interests. I was a taekwondo instructor for a while, and it was actually through teaching taekwondo that I started to get more art jobs. One of my students said one of their clients was looking for an entry level graphic designer. That was at Houghton Mifflin. Most of my career has been in publishing. I started with college book cover design — not even the book at first. Just the reading or study guide. Again so boring. [Laughs] I was there for a few months. Then another freelancer said to me, "You're wasting your time here," and that she had another client who was looking for help.
My second job was at Addison-Wesley. My new boss, Jess Brallier, was the one who first introduced me to children's books. In fact I still talk to him today. I worked for him from 1999 to 2000. He was very influential in my career. He would always say, "Never edit yourself." So many other people will say no. You have to say yes to yourself. There's the method of designing for the meeting, but he had the opposite thought: you can never be creative if you're always trying to get approval. That's the approach I started to take.
In 2000 after the dot-com bubble crash, our division closed. I was still in Boston. Addison-Wesley was part of Penguin, which is in New York. Some people at Penguin had moved around, and Simon & Schuster was one of the companies people had moved to. One of the art directors reached out to me, asking if I wanted to come to New York and have an interview. The interview went so well, the hiring person asked if I wanted to come back the next day and meet her boss. I came back and they hired me on the spot.
I was at Simon & Schuster for 10 years before switching to freelancing. I really enjoy working for myself and on my own projects, being part entrepreneur and part artist. I'm still doing it now. For most of my freelance career I was doing client driven work. But now I feel like I finally found my voice and what I want to do. Now I think there's a real marriage between my art and what I'm trying to do in terms of activism.
When did you start taekwondo?
Right out of college. When I was little, my dad taught me taichi as well as about fitness and health. My dad is pretty amazing to me. During World War II, he got separated from his mom. He was six years old. This was in China. He was running with his mom, they got separated, and he never saw her again. He was pretty much on his own. He did anything he could to survive. He ate raw sweet potatoes. I always think, No matter how bad things are, I'll never have it as bad as him.
As a kid I was really scrawny. I couldn't lift my bicycle and carry it up the stairs. My mom was concerned and sign me up for every kind of physical activity you could think of. I was able to try all these things, like skiing and stuff. After college I started taekwondo because I wanted to do something competitive, and taekwondo was the most organized martial art at the time. It just became part of my life.
I was teaching taekwondo up until the pandemic. My kids and their friends. It started when my daughter was four. Her preschool started at 11, and the parents wanted something for the kids to do in the morning. I had access to a gym and was able to teach the kids taekwondo.
After all the anti-Asian hate incidents, I transitioned to teaching self-defense. Normally my kids take the yellow bus to school, but then my daughter was in a special math program that was earlier so we had to ride the subway. I was more afraid of getting into fights than getting Covid. I had to come up with a plan with my kids. They kept saying, "Daddy, we can help you." They didn't get it. Why would anyone want to hurt me?
I was frustrated and wanted to help. Through a client, I eventually learned about One Book, One World, which works to donate AAPI books to schools. I reached out to them and volunteered to help them with design work for social media and ads. I was also able to connect them with publishing industry and to get 1,200 books donated to them.
Most schools don't require AAPI history, and have no budget for anything outside of the requirements. That's changing now. Four states have passed laws requiring AAPI history in schools — Illinois, Connecticut, New Jersey, and Rhode Island. On June 13, Biden signed a bill to create a commission to study the potential creation of an AAPI national museum. 
I looked at the books that had been donated and I thought, None of these really tell the real story. The history of immigration, the plight of AAPIs. I thought, There just needs to be more. So what I ended up doing is writing my own book. I took it to Jess and he said you have something really good here. Find an agent and sell it. So I did. I talked to four different agents, and they all gave me an offer. I'm working with one of them now, tweaking it to make it fit the formula.
How did you connect with the Mott Street Girls?
This is funny. So I was doing these line drawings. Jess wanted to do this series, 50 Walks. The idea was walking through different buildings in New York and giving a history of them. It was outside of my wheelhouse, but they became really popular.
When Yu and Me Books opened, I thought is [owner Lucy Yu] crazy to open a bookstore in the middle of a pandemic? Are people going to buy these books? I wanted to support Lucy and so I drew this line drawing of the store. I gave it to her and said you can use this however you want. It was super popular on Instagram.
Then I thought, Why don't I do a show on the different businesses and landmarks in Chinatown? I saw a Mott Street Girls card at Yu and Me Books, and thought they had a good connection to Chinatown and knowledge that I didn't have, and know of different places to host the show. I sent them a DM asking if they wanted to work together, and they said sure. 
What do you do for inspiration?
I really like to watch movie trailers. Movie trailers are like an invitation to watch the movie. And also show openings like Game of Thrones. That's what a book cover is. It draws you in. Rather than telling what exactly the book is about, it gives an atmosphere, a hint of it, I love for the viewer to bring their own ideas to cover and imagine what the book might be about. 
Is there anything you're obsessed with now?
My favorite movie recently is Turning Red. I think it's funny, and my kids loves it. We've watched it a few times. My daughter plays the theme song constantly, and (spoiler alert) we pretend we are Red Pandas and shake our imaginary tails at each other. 
DRAWN TOGETHER: STORIES OF RESILIENCE AND RENEWAL IN NYC CHINATOWN is on view in our SoHo gallery from Sept. 10 through Dec. 28. Free and open to the public every day between 11 a.m. and 7 p.m. Join us for the opening reception on Sept. 10 from 1 to 3 p.m. Attendance is free but registration is required.