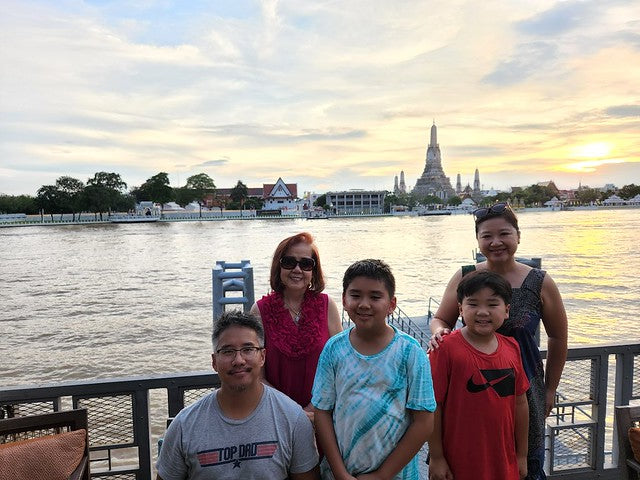 Pearl River in Thailand
In case you missed it, Pearl River President Joanne Kwong and her family were in Thailand last month! It's been a few years since the last PRM-in-Asian travels so we're excited to share with you what Joanne and fam experienced. 
Chatuchak Weekend Market
A Pearl River trip in Asia wouldn't be complete without a sourcing adventure. The Chatuchak Weekend Market to the rescue! The largest market in Thailand, Chatuchak has 15,000 stalls spread across 35 acres and clocks in at 200,000 visitors per weekend.
Joanne's first stop was Mini Moons batik products. Mini Moons offers a variety of batik items from Chiang Mai, including dresses, hats, bags, and more. The products are from Jennifer's family. Jennifer was a huge help and delight, spontaneously breaking into song and happily modeling. 
Here's Joanne wearing one of Mini Moons' dresses!
Another stop was Tanida's natural handmade soap, which came in supercute fruit shapes like grapes, watermelon, and mango, and smelled really good too.
Bangkok food tour
A trip to Asian of course means trying lots of yummy food. One of the first activities Joanne and her family embarked on was a food tour in Bangkok. They had some delectable pad thai with egg and shrimp:
Pop quiz! Did you know that while pad thai may seem like a quintessentially Thai dish, it's only be around since the 1930s? The prime minister at the time, Plaek Phibunsongkhram, was on a mission to create a unified national identity for Thai people. He changed the name of the country from Siam to Thailand, introduced a new national anthem, and promoted a standardized recipe for a new national dish — pad thai!
Other tasty treats from Joanne's tour included chicken satay, crispy noodles, and mango sticky rice for dessert. 
Phuket food tour
Joanne and her family also took an excellent food tour in Phuket with guide Namtam and assistant Natty. They started in Old Phuket Town Central Market, where the first stop was for a famous Chinese-influenced noodle soup called kuay jub Pa Mai. This particular kuay jub (or "hangover help" to some) is made by the mother of Namtam's college classmate, known as Pa or Aunty Mai.
Every day, Aunty Mai gets up at three a.m. to cook the broth for her famous dish, which comes with delicious egg and pork. Other options include intestines, ears, organs, and all the other parts of the pig! People have been coming from all over the island for Aunty Mai's hangover cure for over 30 years.
The next stop was the Mingala Coffee Shop, which offers Burmese-influenced nan, samosas, and yummy milk tea. 
Be sure to check out the video to see the cool way they make the nan!
Other highlights from the tour included:
Ko yoob Hokkien-inspired noodles from a longtime family-owned spot. The delectable egg noodles included wontons, fish balls, fish cakes, peanuts, fried dough with shrimp, chili peppers, pork crackling, and a bit of broth.

A Pong Mae Sunee, famous for its coconut crepes.

Curry rice in

Yaowarat or Chinatown. Comes with fresh fixings such as cucumbers, pickled veggies, and edible butterfly pea flowers.

A 100-year-old fresh

spring roll vendor

. This family has been making spring rolls for over 100 years. 

Prem Dessert Bar

, which along with delectable sweets (including of course mango sticky rice), offered heavenly A/C. 
Mid-Autumn Festival high tea
Joanne was in Thailand right before this holiday so of course they had to partake in a special Mid-Autumn Festival high tea at the Authors' Lounge in the Mandarin Oriental. 
The spread included gorgeous pastries (including a custard mooncake), savory treats, and of course tea.
Elephant sanctuary
The visit to Phuket's first and most ethical elephant sanctuary was heartwarming from beginning to end. Founder Montri Todtane has worked with elephants his whole life, and in 2016 decided to change his approach to a more compassionate form of elephant tourism. Inspired by another elephant sanctuary in Chang Mai, he decided to start his own. One by one he rescues old and injured elephants by raising money and buying them from their owners all over Thailand.
Currently 10 elephants reside at the sanctuary. Each one is paired with a mahout, or elephant minder, who stays with the elephant all day to make sure they don't run off and get hurt or lost. There are similar sanctuaries throughout Thailand, but if the place offers activities like riding the elephants, watching them paint, or bathing with them, Mr. Todtane does not consider it ethical as these type of activities stresses out the elephants. The main activity at this sanctuary is feeding the elephants, which they say they don't mind since they eat 14 hours a day!
Want to learn more about elephants? Check out some fun facts about their significance in Asian cultures.
We hope you enjoyed these Pearl-River-in-Thailand travels! Already looking forward to next year!