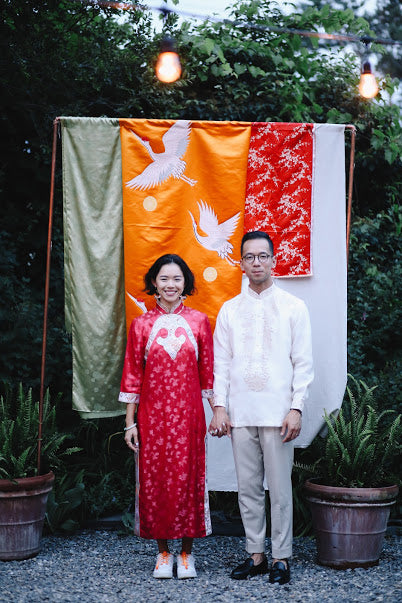 Banana Mag Co-Founder Vicki Ho's Epic Wedding Celebration
When we learned that Banana Magazine co-founder and Pearl River friend, Vicki Ho, was getting married this July, we were so happy for her. Then when she asked us to be her decor partner, we were doubly so.
The Cut is now featuring the beautiful and festive nuptials of Vicki and her husband Todd. Their celebration was a combination of their Chinese and Filipino heritages, respectively, and full of personal touches from creative friends — like Vicki's flawless manicure reminiscent of blue and white Chinese porcelain, their fresh and modern invitations, signage, and menus, and their stunning wildflower arrangements — and we were happy to one of them!
It was a hot one! Luckily the guests had coverage with our hand-painted parasols.
Our white organza bags helped to create a simple yet elegant favor.
Vicki wanted to create a unique and colorful outdoor photo moment with a clothesline and variety of Asian fabrics. "It reminds us of our grandmas hand-washing clothes and putting them out to dry," she told us. We were delighted to offer our brocade textiles featuring cranes, cherry blossoms, and peonies, all auspicious symbols.

We were glad to see our lanterns help create a festive mood!
Congratulations, Vicki and Todd!

You can learn more about Vicki's wedding in The Cut, and about Chinese wedding traditions on our blog: five fun traditions; Chinese customs, old and new; and how to add some Asian flair to your own nuptials.