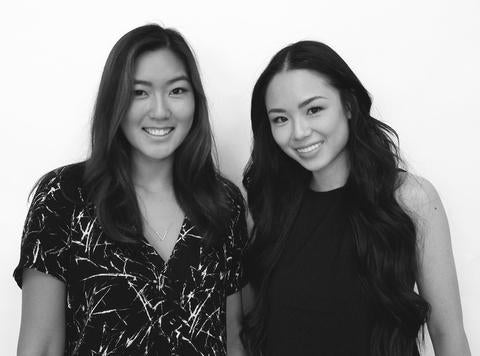 Covry Sunwear: Making Sunglasses Cool *And* Comfortable for All Kinds of Faces
Warm weather is finally here, which means it's time to break out the summer dresses, strappy shoes, and sunglasses. But if you're like us (think low nose bridges and high cheekbones), you might have had trouble finding shades that fit properly. They either end up slipping all the way down or sit too close to the face.
Covry with Elevated Fit® to the rescue! Started by two lifelong friends who bonded over the the lack of options in sunglasses that not only fit but also looked good, Covry is a New York-based small business that embraces diversity and celebrates faces of all shapes and sizes — which makes them the perfect collaborator and featured designer of Pearl River.
We had the chance to speak to Covry founders Athina Wang and Florence Shin about what inspired them to start their business, the challenges they've faced, and what advice they might have for budding entrepreneurs.
I understand that you all met in high school. Where did you grow up?
FLORENCE: We grew up in the southern New Jersey. It's a suburban town about thirty minutes outside of Philadelphia. We both attended Cherry Hill High School East and quickly became friends.
How did your interest in fashion start?
ATHINA: I grew up with my grandparents and I remember watching my grandma sew all our clothes. She would always make me beautiful, pastel-colored princess dresses on my birthday. Even now, at 80 years old, she still has the best style.
FLORENCE: My dad used to have a store that sold children's evening-wear. So at a young age, I would pick out a new dress to wear to church every Sunday. I didn't realize until I was older that this probably had a huge influence on my interest in style and trends early on. By the time I was in high school, I was sure that I wanted to be in the fashion industry.
What did you do before you started Covry?
ATHINA: I studied fashion design in college, which led me to work in apparel production. I helped brands such as Theory, Rag & Bone, and Helmut Lang bring their collections to life. Watching a simple sketch turn into wearable clothing was very rewarding.
FLORENCE: My background is in strategic branding and communications. I was working at a boutique fashion PR agency, working with designer and contemporary retail brands such as Josie Natori and Vince. I loved seeing the relationship between brands and media and finding creative ways to connect with customers.
What inspired you to start Covry? Do you remember a particular moment that inspired you or was it more of a gradual process?
ATHINA: A few years ago, my grandma and I went shopping and I was trying on those cheap dollar sunglasses that you see all over the street. I realized that if I change certain parts of the frame, I could make them fit much better. This started the process of sampling for over a year until we finally created what we now call Elevated Fit®.
Where does the name Covry come from?
FLORENCE: Covry comes from the word "cove." The cove takes us to a tranquil and natural place that bridges land and sea, and also has this great energy. We read that creating your own word is easier to trademark, which is why we changed "cove" to Covry.
What's been the biggest challenge with starting your own business?
FLORENCE: It's our first business, so there was a lot that we had to figure out for the first time along the way. Although we weren't always 100% sure what we were doing, we were confident in our ideas and trusted each other. Early on, I think there's this fear of asking for help and guidance, and I wish we had asked more! People reach out to us often, and we love sharing our experiences with them if it could help even a little.
What's been the most unexpected experience you've had with starting your own business?
FLORENCE: We love the entrepreneurial community. There are so many designers and entrepreneurs that want to support each other and collaborate. It's a very positive, creative community, and we're lucky to have met some amazing people since we started Covry.
What's the most valuable lesson you've learned so far?
ATHINA: Listening to our customers. Their feedback has been the best advice we've ever received. One of our styles was actually created from a customer's request and is now our most popular style!
What advice would you have for someone starting their own business?
FLORENCE: Both of us always say that we can't let fear stop us and to just go for it. Everyone has so many great ideas, but too often, doubt prevents any of these ideas from coming to fruition. Whether the business succeeds or fails, it's a win-win because we gain the ultimate learning experience.
The Pearl River x Covry collection is available at our Chelsea Market location and our website.