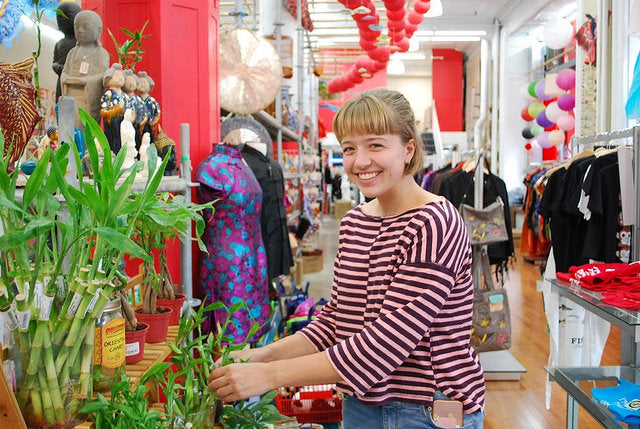 Dorm Decor Challenge: Creating a Calm Space
Our #88challenge continues! To get you up to speed, we've challenged college students to zhuzh up their dorm rooms with no more than $88 worth of Pearl River goodies. Last week we met Skye, a first-year at University of Pennsylvania. Today we have Aubri, a senior at Barnard College studying English and political science.
While Aubri filled her basket, we chatted with her about creating a calming atmosphere, her love of nature, and her ornithological aspirations.
What's your goal in decorating your room?
Originally it was going to be a lot of plants since I love nature so much. But then I started thinking about simple shapes juxtaposed with plants. With the Snake Block you can make a lot of different kinds of shapes.
I also want light colors because my room has a lot of light. I like to feel calm, and think a simple decor can help with that. I feel like things are best when they're simpler. My style used to be "everything everything" but now I want a calmer, more thoughtful space.
What's your spirit animal?
I really like birds and wish I were more like a bird. But in actuality I'm more like a chipmunk: erratic and running around. Basically, I'm a chipmunk who wants to be a bird.
Now let's see how Aubri used her selections!
We love the tranquil, Zen-like touch our lantern gives this cozy corner.
The bright colors and angular shape of the Snake Block contrast nicely with the more muted softness of the rest of the room.
We see now the items Aubri selected were also multi-functional — the stool as both a seat and little display table for example — and reflective of a smaller NYC-based dorm. 
Stay tuned for the next installment of the $88 dorm room decorating challenge. Until then check out
last week's student
and our
back-to-school shopping guide
for everything you need to be cool for school.