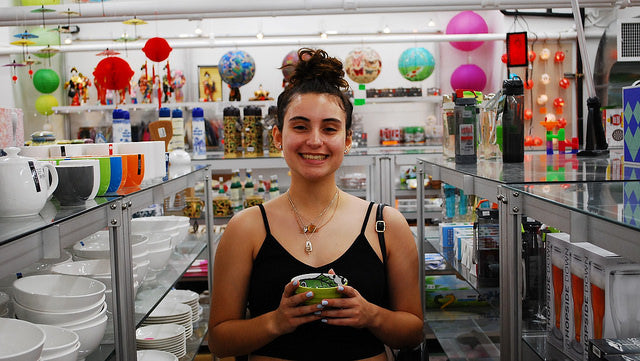 Dorm Decor Challenge: It's Easy Being Green
Eighty-eight dollars and a dream — that's all the college students we tasked with our #88challenge have to decorate their dorm rooms. Plus of course Pearl River treasures.
This week the challenger is Ruby, a first-year at Pace University. As she selected her items, we had the chance to ask Ruby about her interest in fashion marketing, her favorite colors, and the importance of towels.
What's your goal in decorating your room?
I want something nice and clean. Something simpler so my brain will work better and I won't feel so crazy and disorganized.
I see you picked a lot of green items. Is that your favorite color?
I have a lot of favorite colors. Green is definitely one of them. What I like to do is have a plain color scheme — for my room it's gray and white — with a color like green as an accent. The way I dress is similar. I like to wear something simple with one or two striking signature pieces, like cool jewelry or bright shoes.
Was there any particular purchase you felt you had to make?
Towels. They're important since my roommates and I have our own bathroom.
Who's your inspiration in terms of fashion?
My older brother. I have three older brother, and he's the youngest of the three. He works at a holistic healing center, helping people. He's a real humanitarian.
What's your spirit animal?
Definitely the elephant. I love elephants.
Now let's see Ruby's purchases in action!
Want even more inspiration for a small space that needs spicing up? Check out what college students
Skye
and
Aubri
did with their dorm rooms.