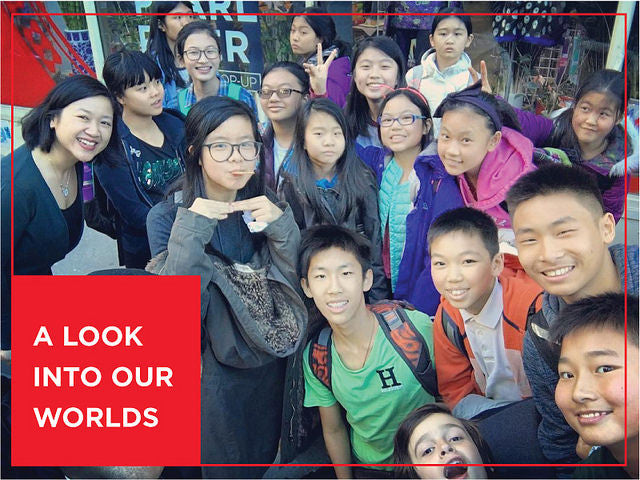 East Meets West: A Look into Our Worlds
We're proud to announce our partnership with PS 184 Shuang Wen School and Apex for Youth as we collaborate on a student art exhibition to raise awareness about the critical importance of the arts in New York City's immigrant communities. 
East Meets West: A Look into Our Worlds features the work of 28 promising student artists — all of whom are bilingual or trilingual immigrants or children of immigrants — exploring their multiple identities and the immigrant experience through conceptual sculptures, paintings, and prints. The exhibition through June 25 at our in-store art gallery located at 395 Broadway in Manhattan.
Curated by Shuang Wen visual arts teacher E-Anna Soong, East Meets West delves into the minds of urban pre-teens living in New York City, with family roots in Asia and other countries, who are navigating transitions from childhood to teenage-dom through art. For the exhibition, students were asked to represent the objects, images, and ideas that define their varied experiences attending a dual language school, living in a culturally diverse city, and being Asian American or immersed in Asian American culture.The pieces are intended to reflect their perspectives on immigration, the future, and other issues impacting their communities.
"In these turbulent times, arts education is needed more than ever and often forgotten," said Ms. Soong, an artist who teaches the Art Portfolio Apex after-school program at Shuang Wen. "The goal of our exhibition is to demonstrate the real world impact art has on our children, their development and our larger community."
"Art empowers immigrant families and children," stated Michael Lee, Executive Director of Apex for Youth, a not-for-profit organization which sponsors the Art Portfolio program. "It's a powerful tool that enables important dialogue and conversations to take place in these communities that might otherwise never happen."
"Artistic expression can often be low priority for immigrant families, but that doesn't mean it isn't vitally important for our kids, especially in these uncertain times," said our president, Joanne Kwong. "We are honored to partner with Shuang Wen and Apex for Youth, who are directly shaping and mentoring this next generation of Asian-Americans and encouraging them to create and dream and think about their impact on the world."
We were proud to recently host the opening reception for the exhibit and to welcome Ms. Soong, the artists, the artists' friends and families, Mr. Lee, and Shuang Wen Principal Iris Chiu. We were also honored to have in attendance special guests Margaret Chin, New York City Council Member; Wellington Chen, Executive Director of the Chinatown Partnership; Jay Luo, Deputy Director of Middle School Programs, School's Out New York City; and Alice Lee Giannetta, Mrs. New York America 2017.
Our artist-in-residence series is a monthly curated exhibition featuring local artists from a variety of disciplines and backgrounds. Previous artists have included photographer Louis Chan, painter Chris Mendoza, and multimedia artist Wiena Lin.
Get to know Ms. Soong and the artists.
East Meets West is on display through July 30.