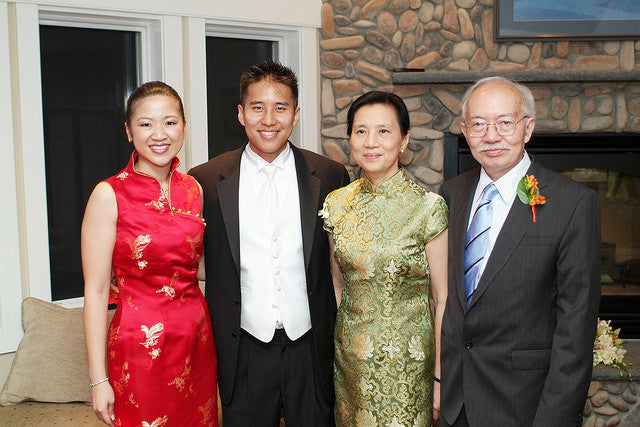 Wedding Season Begins! Tying the Knot with Culture and Flair
By Joanne Kwong
Memorial Day has come and gone, which means one thing — it's the start of wedding season!
My husband and I celebrated our 10-year wedding anniversary last year, and though the main traditions of getting married have essentially stayed the same — vows, friends and family, food, music, cake — it's dizzying and exciting to see all the new trends in wedding-throwing since our big day in 2006. Witty hashtags, fragrant flower walls, elaborate photo booths, and crispy bacon bars (what?!) — I'm just about ready to start planning our vow renewal bash!
One thing that I absolutely love is when couples incorporate their cultural backgrounds into festivities. Both my husband and I are Chinese-American, and my family is Chinese from the Philippines, so it was important to us to honor our families by bringing in some Chinese and Filipino customs, fashion, and food. Below are a few snaps of our special touches. 
We were married in a traditional Catholic ceremony in a light-filled, modern parish in Connecticut.
The Monsignor incorporated Filipino customs into the ceremony, like the lighting of a unity candle by our mothers, and the traditional veil, cord, and coin ceremony.
At the reception, we served our parents tea, as per Chinese custom.
Gambling is a popular pastime for many Chinese grandmas so our rehearsal dinner was a ten-course Chinese banquet at a nearby casino! Everyone won that night!
One of my favorite moments was a "traditional" mother/daughter dance with my cha-cha-loving mom. I know Dad would have been happy to see us together.
At the end of a long day, it was a relief to finally relax and enjoy the lovely evening with dear friends.
Now we want to know how you incorporated aspects of your cultural heritage in your own celebrations. Email photos to joanne@pearlriver.com or tag us on Instagram and Facebook for a chance to be highlighted on our blog and feeds!