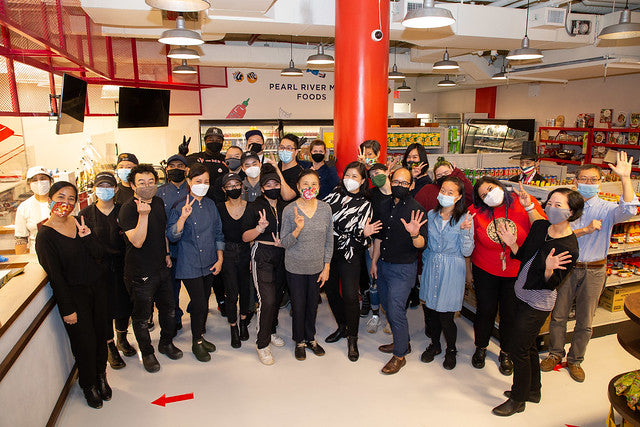 Happy Birthday, Pearl River Mart Foods!
Pearl River Mart Foods turns one this Saturday!
On Oct. 30, 2020, we officially opened the doors of our third location in New York and second in Chelsea Market. Since then we've expanded our selection of products, rocked an epic Lunar New Year, welcomed a slew of special visitors, and, most of all, shared Asian treats we love.
Of course none of it would have been possible without our in-store vendors, Mao's Bao, Kimbap Lab, Tea and Milk, and Kitsby; our specialty vendors, including Po Wing Hong, 46 Mott, Philippine Bread House, the entire chili sauce family, and more; everyone at Chelsea Market; the kind folks — and our landlords! — at Google; and most of all, our customers. We love seeing all of you come back to stock up on Asian groceries, feast on bao and kimbap, indulge on bubble tea and Asian desserts, or all three!
Here are some highlights from our first year:
Our opening announcement during the pandemic. Pandemic, schmandemic — why not open up a new location? We were able to thanks to this group of amazing people and more!
Sneak peek of T-shirt and signage. No opening would be complete without cool T-shirts, signage, and more signage. Thanks as always to 4GM Studio and DaSign Guy for their amazing work!
Hot off the presses! We're so grateful for the press announcing the opening, including an exclusive in the New York Times and pieces in Time Out New York, Eater, 6sqft, Thrillist, and Crain's. 
The grand opening. On Oct. 30, 2020, we opened our doors to the public for the first time. However, before that there were plenty of last minute preparations (and behind-the-scenes shenanigans) as well as a festive friends and family preview.
Mukbang time with Marcia Hu. Pearl River President Joanne Kwong had fun sampling the delectable treats from Mao's Bao, Kimbap Lab, and Tea and Milk with our pal Marcia Hu of Send Chinatown Love.
NY1's Roger Clark visits. We're always so happy to welcome Roger Clark of NY1 to our events and openings, and Pearl River Mart Foods around Lunar New Year was no exception when veteran reporter got a behind-the-scenes look at how Tea and Milk makes their yummy boba teas.
Welcome to Kitsby! In early 2021 we welcomed our fourth in-store vendor, Kitsby, creator of insanely tasty lava cakes and other Asian-inspired desserts. In July they wowed the crowds with gorgeous honey chrysanthemum soft serve, and in September shared an lovely mooncake collection for the Mid-Autumn Festival. 
An epic Lunar New Year celebration and meal. We rang in the Year of the Ox with a fun and festive outdoor Lunar New Year meal featuring all of our in-store vendors and Chelsea Market friend and neighbor, Very Fresh Noodles. Don't forget the lion dancing from the incredible Wan Chi Ming Dragon Lion Team!
Special visitors. Of course we welcomed many special visitors over the year, from Nom Wah owner Wilson Tang and his supercute daughter Lucy, to a surprise visit from the whole Fly By Jing team, including founder Jing Gao herself, to the then-future governor of New York, Kathy Hochul. We can't wait to see who else might stop by!
We appreciate all of you and look forward to continuing on this delicious journey together! To keep up, follow us at @pearlrivermartfoods and @pearlrivermart, and check out our anniversary video for even more special moments.