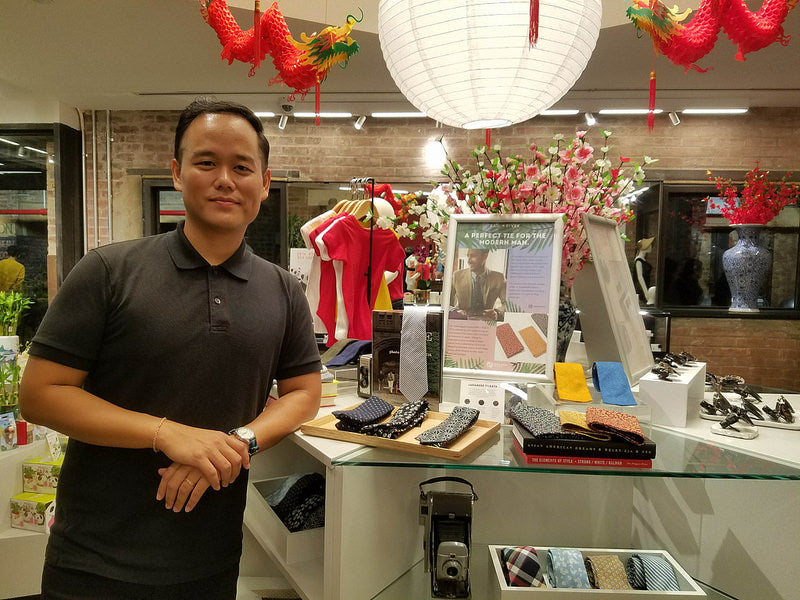 Jon Sukarangsan of Rail + River: Style Is a Story
Think a tie is just a tie? Think again.
New York-based design shop Rail + River specializes in unique yet classic ties and pocket squares made from material sourced from specialty mills and inspired by cultures around the world. We're so excited to be carrying their beautiful handcrafted items, just in time for summer weddings, graduation ceremonies, and Father's Day.
We had the chance to speak with Rail + River founder Jon Sukarangsan about style versus fashion, the most common fashion faux pas men make, and why the details matter.
Tell me a little about your background. Where did you grow up? Where is your family from?
I was born and raised in Houston, Texas. I'm second generation — my mother is from the Philippines and my father is from Thailand. Houston in the '80s was a pretty diverse place. At the time, lots of immigrants from southeast Asia and all over the world were starting their lives in the U.S. there.
I went to school in Texas and eventually moved out to California, working in tech in San Francisco for a while. Ten years ago I landed in New York, where I've had the opportunity to work in the advertising and marketing world, and I've been here ever since.
How about your career trajectory? I know your background is in brand strategy and marketing — how did you end up there?
I've always been interested in the relationship between people and the products or services they buy, and how companies can tell their story. Whether it's through a TV commercial, the design of their products, a digital experience, or something different altogether. It's an industry that's always changing — that's exciting to me.
My first break was working at Ogilvy, which has such a rich history doing great advertising work for global brands for the past 50-something years. After that I got a great opportunity at Ralph Lauren, combining my digital and advertising experience to work on their e-commerce and digital experiences, and helping them launch all their men's and women's brands online globally.
Were you always interested in fashion?
Fashion as an industry? No, I wasn't always interested. But I think I've always been interested in style — whether it was Audrey Hepburn in Breakfast at Tiffany's and the cut of that Givenchy dress, or perfect suits on leading men like Grant, Peck, and Connery, and even the perfect ensemble looks captured in John Hughes movies. I think style is a story that's always building over time and fashion was the industry that was created around it to sell clothes.
Working at Ralph Lauren helped me to appreciate the craft that goes into making things. Plus the energy and history of the company was always fascinating to me. After all, he was the son of immigrants who got his start making ties ages ago.
What made you decide to start Rail + River? Was it a particular moment or more of a gradual process?
I think the moment that clicked for me was when I was traveling a lot and wanted to combine my love of learning about other cultures with my love for understanding how things are made. I've always been fascinated by how textiles are made — they're so regionally specific and tell a story about the culture and environment they're made in. So I started visiting mills, workshops, and studios in places like Bali, the Scottish Highlands, Mexico, and Japan.
Where does the name "Rail + River" come from?
I've taken a lot of trains and boats to get to some places when searching for fabrics, and those are usually the places worth the extra effort. So the name is travel inspired, which I thought summed up the adventure of it all.
Can you tell me about the process of designing and producing your ties and other menswear?
I source our fabrics personally, and we only work with reputable suppliers. Our ties are cut and made here in New York — we have factories in both Brooklyn and Long Island. The craftspeople we work with have been doing this for generations. Making ties by hand is a lost art, really. We put on the finishing touches as well, whether it's a contrast tipping or colored bar tack. Details matter in menswear.
Do you have a philosophy about fashion? If so, what is it?
Style over trend, always. And the thing about style is that nobody can tell you yours. You have to have your own. And also, some things are timeless.
What's the biggest mistake men make in terms of how they dress?
Understanding proportion. The size of your tie knot, the shape of your shirt collar, your jacket lapel and shoulders — all of these need to work together. A lot of men I see don't understand that.
Excluding phone, wallet, and keys, what are three things you can't leave the house without?
I'm a watch and bracelet guy. But, other than that, I like to travel light.
What's the most surprising thing you've learned from starting and running your own business?
It takes a lot of resilience. And trial and error. And luck.
What advice would you have for someone wanting to start their own business?
Once you find that thing, pour yourself into it, and do it because you love it. It's the only way you'll make it out with your skin on. Make mistakes, but don't be dumb. Listen to your potential customers. Usually the thing you think is most important and what they care about the most aren't the same thing.
The Rail + River x Pearl River Mart collection is available at our Chelsea Market store and online.