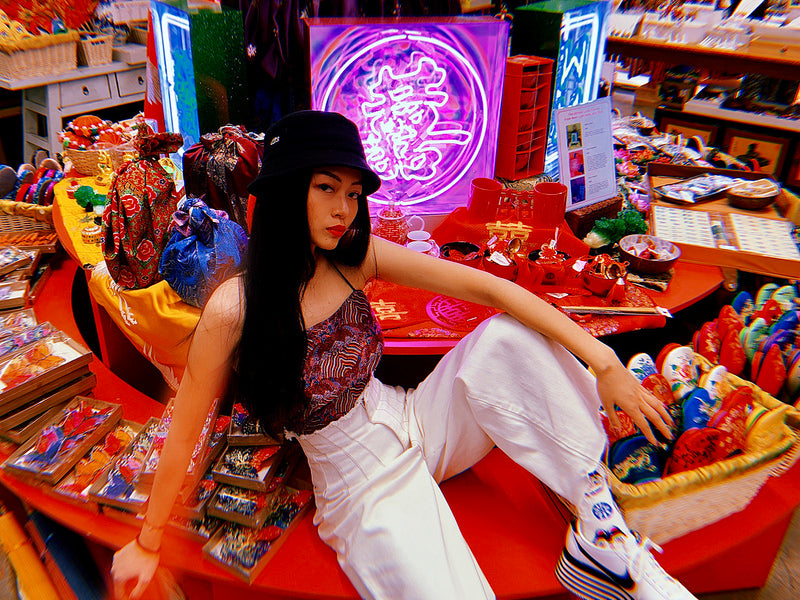 Let There Be Light: A Conversation with Neon Sculpture Artist Juno Shen
You may have seen her pieces in the pages of Vogue, on HBO's High Maintenance, or in designer Sandy Liang's showroom. Now you can see the bold and eye-catching work of neon light artist Juno Shen in our Chelsea Market store.
Called "In Your Favor," Ms. Shen's collection of neon light sculptures are reminiscent of giant mah-jongg tiles, each aglow with a significant Chinese character. There's Make a Fortune with the fa character, which is commonly used in the phrase, "fa cai," to become prosperous. There's Double Happiness -- while one xi means happiness, two mean love. Finally, there's Eight of Bamboo, which was created as an homage to Rachel in Crazy Rich Asians, and her life-changing mah-jongg game with her fiance's mother.
We had the chance to speak to Ms. Shen about her work, the importance of business plans (even for artists), the difference between northern and southern Chinese culture, and the inspiration behind these ultimate lucky charms.
Tell me a little about your childhood. Where were you born and where did you grow up?
I was born in Jiangsu near Shanghai. Currently I live in Beijing. I've also lived in Hangzhou and Guangzhou, and have experienced those different cultures, north and south.
What's the difference between the two?
There's a Chinese saying: "People in the south and the north use their mouths to extremes." This means that Southern people eat everything. People from Guangzhou are adventurous eaters. Northerners are very eloquent and good at talking. Southern people are more reserved while Beijing people are more flamboyant and outgoing.
Have you always been interested in art? Do you remember what sparked your interest?
Art has been an interest of mine from a very young age. In school, kids were assigned to different roles. There were kids in charge of sports or keeping the class in order. There was also a kid in charge of decor and the mural in the back of the room. (There were two blackboards, one in the front for the teacher and one in the back for content we produced.) I always had the role of art directing the blackboard. I was in that role from elementary school to high school.
For Chinese kids,  that blackboard was one of the most popular artistic outlets. We were always competing with each other to win this plaque and my class always won. The other teachers were always very jealous. 
When did you come to the U.S.?
My last year in high school. I went to Miami for an exchange program at an art school called the Academy of Arts and Minds.
Did you like Miami?
I'm a big fan of the TV show Friends so I was expecting 1990s West Village when I came to the U.S. Instead, I got Dade County Miami. But I was staying with this amazing Colombian-Cuban family who brought me into their family and introduced me to their amazing cuisine and culture.
What made you decide on New York?
I applied to Parsons [School of Design] and got in. In New York, I feel at home. It's pretty chill. There are lots of Asian restaurants, Asian markets where I can buy things and make things that I like. In terms of a city, it's pretty comparable to Shanghai or Beijing.
What inspired you to create these neon pieces?
I just feel like this year has been a good year for Asian culture. And I want to continue in that sense. I wanted to create something very desirable and very flashy. Like candy for everyone's eyes. I wanted to draw people to the work and what they present and the meaning behind it.
What made you choose neon?
It goes back to my obsession with lighting. I'm in love with anything that glows. It was my focus my senior year at Parsons. The relationship between light and human emotion.
Tell me a little about how you make them. I hear it involves a blow torch, which sounds scary!
It's a crossfire burner. I did get burned a lot. [Laughs] But it's fun. I consider myself a quick learner and a handy person. It didn't take long for me to get used to.
What advice do you have for an artist just starting out?
If you're Asian your parents are more likely to go 100% against it. You need to convince them and to think about the financial situation. You need to build yourself a business model that works.
For me, if I just purely pursue fine art work, I'm never going to get approval from my mother. That's actually what motivated me to make this neon collection. I can pay the rent and still have money to explore new projects. I took that from studying Andy Warhol. All those celebrity prints he made, of millionaires and socialites, that was his main income. Then he used that money to make more fine art work for his own pleasure.
Are you working on something now?
I am but I can't tell you yet because it's not ready. But I am working on something.
How do you feel about your art being in Pearl River Mart?
Like it's home! The store is so well curated. This is where my art belongs. Pearl River Mart has everything my work is about.
If you could have dinner with someone you admire (living or dead), who would that be?
James Turrell. He's a light artist. A light god. He does amazing work.
What's something you can do that not a lot of people can?
I can eat for hours nonstop.
What's your spirit animal?
A lemur. Because they're really goofy and have really long arms.
If you had a one-word mantra, what would that be?
Light.
Is there anything you're finding especially inspiring or are obsessed with right now? That you'd tell someone, "You have to watch/read/listen/eat this"?
The movie Sakuran. The director [Mika Ninagawa] is my favorite ever and I'm also a big fan of the main actress [Anna Tsuchiya]. And my favorite musician [Ringo Sheena] did the whole soundtrack. It has everything I love.
You can see "In Your Favor" at our Chelsea Market store, and learn more about the collection on our website.