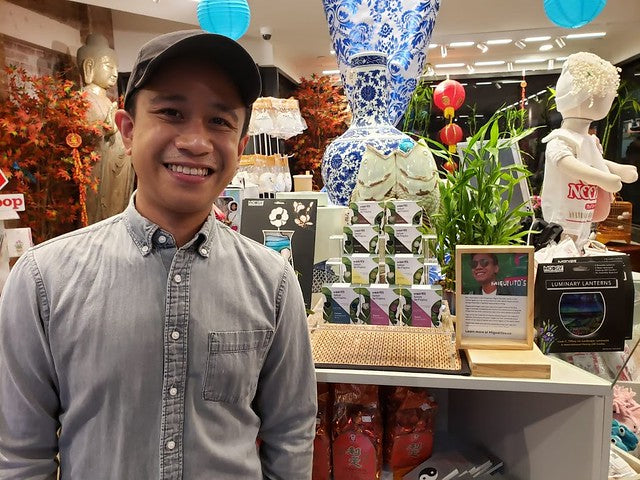 Miguel Carrasco of Miguelito's Sabon de Filipino: Paying Homage to Home
Chocolate hills. Rose garden. Underground river. While those may sound like they come from a magical land (which in a way they do), they're actually scents of some of our newer products, Miguelito's Sabon de Filipino, a line of all-natural, beautifully scented soaps inspired by Filipino culture. We had the chance to chat with founder Miguel Carrasco (who by the way is also the assistant manager at our Chelsea Market location) about his love for his home country, the science behind creating scents, and his favorite lucky purchase from Pearl River.
Tell me about your background. Where were you born and where did you grow up?
I was born and raised in a town north of Manila in the Philippines. I moved to Manila for college and got my hospitality management degree. After that I moved to the U.S. for internships at hotels. One was as a wine steward at the Grand Hotel in Michigan on Mackinac Island. It has no cars, only carriages. It brings you back in time. It was so nice there. The island is only an eight-mile radius. You can get around it in an hour.
What did you do as a wine steward? 
A wine steward is the entry level of a sommelier. We had a master sommelier — there are just a couple hundred in the whole world — training us. We had a book of liquors, wines, and other alcohols. Wine tastings every day. Blind tests. We also learned about the wines' regions and years, the way the weather affects the crops and how that affects the way the wine tastes. That kind of knowledge is really significant for me because my grandfather is a farmer in the Philippines. He plants rice and onions. His newest crop is cacao. He started making chocolate.
What did you do after your internships?
I went on a few different paths. I was a dishwasher, a barista, a manager for a burger/burrito place. Now I'm assistant manager at Pearl River Mart. I'm proud to say that the hospitality industry made me the person I am today. I'm a people person and I like solving problems. Every situation is different. It's my ability to empathize with people that made me want to stay in the hospitality industry and to provide great customer service.
What's the inspiration behind Miguelito's?
I started thinking about the company back in 2018. It was a simple idea: to share Filipino culture with as many people as possible. To bring in goods and treats reminiscent of my tropical home. By 2019, I had a booth at the Fort Greene Greenmarket in Brooklyn.
How did you decide on this line of soaps as your product?
At the farmer's market I had so many offerings, but I wanted to narrow it down — because I had been operating out of my living room! I decided I wanted to feature the provinces in the Philippines that I've been to. That's how I came up with the Miguelito line. Each soap brings the scent and feeling of a specific region.
What's an example?
The Guimaras Mango Island soap is inspired by Guimaras Island, which is considered the mango capital of the Philippines. They're regarded as the best-tasting mangos in the world. I wanted to bring the sweetness of the mangos as well as the smell of a beautiful beach into the scent of the soap. I wanted to bring in the tropical feeling of the region.
How do you get to that scent? What's the process?
The result is a mixture of different scents. There's a top and middle scent, and a lasting one that you'll smell, for example, at the end of the shower. The scents for the soaps are oil based. Oil based-scents last longer than alcohol-based. I like the science of it all. The measuring and experimenting.
The soaps also include olive oil and shea butter. I try to use oils that have the best benefits for skin. And everything is cruelty free. I test all the soaps on myself. I had eczema growing up so I wanted soaps that would benefit myself and my family. Now my eczema is gone. 
Do you have a favorite one of your soaps?
I would say the Taal Volcano. I enjoy the musky, smoky scent. It has activated charcoal which pulls out toxins from your skin. Also the black and white color reminds me of yin and yang.
Were you already familiar with Pearl River before you started working here? What's a favorite memory or product?
When I moved to NYC is when I first found Pearl River Mart. I bought a spiral lucky bamboo three from the Chelsea Market store three years ago. It's still alive! It's in my living room on my work station. Every time I feel weak, I just look at it and tell myself to keep fighting for the things that are worth fighting for.
If Pearl River were a soap, which would it be?
Since Pearl River is celebrating 50 years, the color would be gold, and it would smell like nature. Everything is in harmony when you're in nature, and that's the way the Pearl River community is.
What's something you're obsessed with right now? That you tell people you have to watch, listen to, read, eat, etc.?
There's one book I've been reading this book for a long time: The Power of Habit by Charles Duhigg. It's about getting rid of bad habits and replacing them with good ones. It gives techniques like rewarding yourself when you achieve a challenge. At the end of the tunnel you'll see the reward. It's a purposeful way of living your life.
Is there a someplace that you miss or have been wanting to visit?
I've been wanting to go home to the Philippines for a long time. The name of our province is Bulacan. It's our ancestral home. All my family still lives there. The sense of community is incredible. I really miss it.
Anything else you want to add?
More things are coming from Miguelito's so watch out! I'm a baker too and we're developing these cookie-cakes. I'll bring some in so everyone can try them!
Until then, check out Miguel's
line of soaps
as well as our other
entrepreneur interviews
.