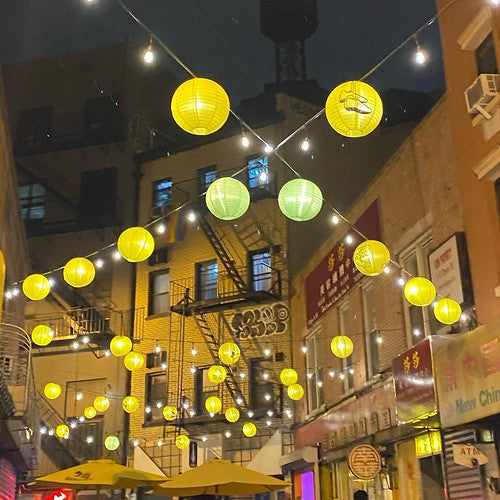 Celebrating the Mid-Autumn Festival with Light Up Chinatown
The next phase of #LightUpChinatown is up, and we were so happy to once again donate our lanterns. Thanks to an incredible array of individuals and organizations, the iconic streets of Mulberry, Pell, and Doyers in Manhattan Chinatown were lit just in time for the Mid-Autumn Festival and Feast of San Gennaro. Shout out to everyone who worked so hard to make this possible:
Think!Chinatown artists Vanessa Nguyen and John Lee
We love both Vanessa's and John's whimsical designs!
The personalizing and weatherproofing team of Prisca Choe, Grayson Chin, Ed Cheng, Chung Seto (who, as always, doubled as the tireless Light Up Chinatown captain), and our own Joanne Kwong
Donors and community partners Think!Chinatown, Send Chinatown Love, Jenny Lam Low, Patrick Mock, the New York Chinese Cultural Center, and the Chinatown BID
Check out the installation in action!
And the finished product!
For Doyers Street, we chose all yellow to celebrate the Mid-Autumn Festival, when the harvest moon is brightest and roundest, and to complement the colorful "Rice Terraces" street mural. From afar, the lanterns could be many full moons casting a light over farmers working hard through the darkness of night as they reap their autumn harvest. Then upon a closer look, John Lee's utterly modern designs come into view. Flipping an urban myth, each sports a pair of shoes slung over a powerline. The jury is out as to what this means exactly: a meeting place for nefarious means or symbols of nostalgia and home? Our vote is for the latter, especially on a homecoming holiday like Mid-Autumn. 
Come see all the Light Up Chinatown lanterns in person on Doyers, Pell, Mulberry, Bayard, and Mott Streets (the installation will be up indefinitely). If you want to donate to Light Up Chinatown's next (and final) phase, check out
Chung Seto's GoFundMe
.