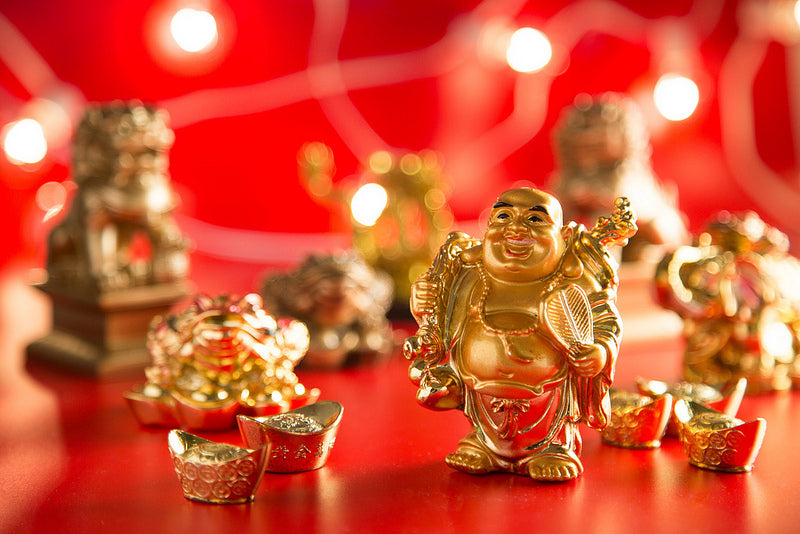 Pearl River in 2018: A Year in Review
The bright and shiny New Year is here, and we have a lot to be excited about. The opening of our third store — located in the esteemed Museum of Chinese in America — and Year of the Pig goodies and festivities just to start! But we also have lots to celebrate as we look back at 2018.
Hiroyuki Ito's Flip Flop Diary
We opened 2018 with an incredible exhibition from New York Times freelance photographer, Hiroyuki Ito. His 250 beautiful black and white photos captured Japan, its people, land, traditions, and everyday life. Learn more in our interview with the artist.
Happy Year of the Dog!
Woof woof! We celebrated a dog-tastic Lunar New Year with cultural fun facts, lots of events, and appearances on NY1 and CBS.
Xin Song Sparkles
We were thrilled to have contemporary papercut artist Xin Song show off her amazing skills in her art exhibition and live performance.
Partying with Martha Stewart
Every year Martha Stewart pulls out all the stops to celebrate her grandchildren's birthdays, and we were happy to add our "show-stopping dragons" to her Lunar New Year theme.
SinoVision's My Town, Chinatown Gets an Emmy Nom
We were so honored to be part of Sinovision's My Town, Chinatown series along with Nom Wah Tea Parlor and Wing on Wo & Co., and to be able to share the story of Pearl River. Not only that, the program was nominated for a New York EmmyⓇ Award!
Yingqian Cao's Illusion of Certainty
In 2018 we hosted our first ever abstract art exhibition. Multimedia artist Yingqian Cao used ink, watercolors, and sculpture to explore and disrupt the illusions of peace and certainty.
Museum of Chinese in America: A Celebration of Heroes
Every year the incredible Museum of Chinese in America (MoCA) celebrates its community heroes, and this year we were humbled and honored to be included alongside fellow nominees NYC Council Member Margaret Chin, Citi Habitat's Victoria Rong, and Kamwo Herbs founder Carl Shan Leung.
Collabs! Collabs! Collabs!
We always love collaborating with Asian American designers and entrepreneurs, and 2018 was no different. We got shiny with Jimmy Crystal's Swarovski-embedded collection and looked cool with Covry's sunwear. We dressed up with Rail + River by Jon Sukarangsan and beautified with premier K-beauty line Peach & Lily. We got our Chinatown Swagger on with the makers of the 9-Man documentary and embraced our inner crazy cat ladies with Koneko Cat Cafe. Finally we feasted on gourmet chocolate bars from Kee's Chocolates.
The Mississippi Delta Chinese by Andrew Kung and Emanuel Hahn
Through a mixture of audio recordings, portraiture, and environmental photography, this project from New York-based photographers Andrew Kung and Emanuel Hahn explored the lives of the Chinese community in the rural South.
Our Mary Janes in New York Magazine
We were so excited to see our classic Mary Jane shoes in New York Magazine this summer, not just once but twice!
Celebrating Pride with BUBBLE_T
BUBBLE_T + Pearl River = BFF! We had so much fun with Asian American artists collective, BUBBLE_T, collaborating on a limited edition BUBBLE_T x Pearl River T-shirt and celebrating Pride month.
Dingding Hu: An Illustrated Journey of a Starving Artist
Illustrator Dingding Hu's whimsical drawings decorated our gallery walls this summer and made us hungry. Learn more about the artist.
Crazy for 'Crazy Rich Asians'
This year we also went crazy over romcom summer hit, Crazy Rich Asians. We were lucky enough to attend a sneak preview and had fun hosting a ticket giveaway.
Parasoling with the Millennial Pink Party
We loved seeing our parasols and lanterns in the Millennial Pink Party, an annual gathering of that generation's leaders, tastemakers, and gamechangers, with all ticket proceeds going toward the support of Human Rights Campaign and Planned Parenthood.
Feet in Two Worlds Podcast: A Personal History of Pearl River
In this moving episode of the Feet in Two Worlds podcast, Michelle Chen, the daughter of Pearl River owners Mr. and Mrs. Chen, relates the history of the store. Included is commentary from longtime employee Wilkie Wong, famed photographer and historian Corky Lee, and Mr. and Mrs. Chen themselves.
Yumi Sakugawa's Fashion Forecasts
We had the honor of hosting this trippily insightful exhibition from Ignatz Award nominated comic book artist and writer, Yumi Sakugawa, and curator Smithsonian Asian Pacific American Center. Miss the exhibition? You can still get some of Yumi's books on our website.
Celebrating the Mid-Autumn Festival with the NYC Council
The New York City Council held its first-ever Mid-Autumn Festival — and we got to be a part of it! We were among those recognized for contributions to improving Chinese-U.S. relations, including Grammy-nominated concert pianist Lang Lang; Alan Ong, President of Community District Education Council 26; and Yijia Yin, a pianist and lecturer from China's Central Conservatory of Music.
Homeward Bound: Global Intimacies in Converging Chinatowns
In our last art exhibition of the year, scholar, artists, and activists, Diane Wong and Huiying B. Chan, use photographs and other artifacts to document and explore what they learned on their travels to different Chinatowns across the country and around the world.
We Got a Room with Carson Kressley and BravoTV
We had so much fun hosting the gracious and hilarious Carson Kressley, as well as his wonderful crew, as they shot an episode of BravoTV's Get a Room with Thom and Carson. You can watch a preview clip and get the whole episode on demand.
New York Magazine Takes a First Look at our MOCA Shop
You heard right: we're opening a third location! New York Magazine gave readers a sneak peek at the goodies we'll be offering, from cultural items like Buddha figurines, money toads, and lucky cats, to yummy Asian snacks, to must-read Chinese American books like The Woman Warrior by Maxine Hong Kingston.
Want to know what's ahead for the new year? Follow us on
Instagram
,
Facebook
, and
Twitter
, or
sign up for our newsletter
.