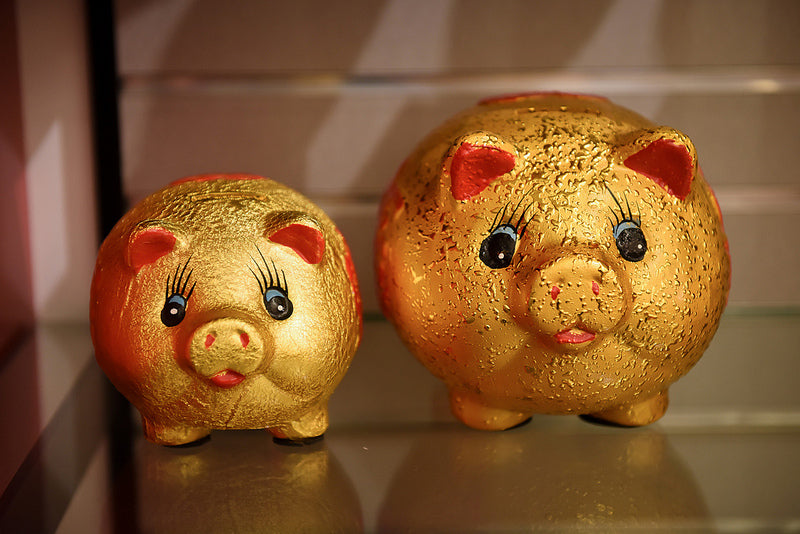 The Year of the Pig: Last But Far From Least
We can hardly believe it, but the Lunar New Year is almost here. While 2018 was all things Fido, starting Feb. 5 of this year it'll be all about the pig. Here's everything you need to know about our favorite pink porker.

The pig is the last year of the Chinese zodiac
According to Chinese myth, back in the day the Jade Emperor decided he needed some animal guards. To determine the order, he held a race. In first place was the cunning rat (first, some myths say, because he rode on the head of the hapless second placer, the ox) and last was the pig. Why depends on who you ask. Some say it's because he was lazy and had overslept. Others claim he stopped for snack. Whatever the reason, last is certainly not the least in our book.

The pig's personality

While pigs might be thought of as shiftless overeaters, in Chinese culture they're also a symbol of wealth and believed to attract prosperity (hence, the popularity of gold piggy banks). Moreover, people born in the year of the pig are thought to be anything but slackers. They're diligent and show great concentration, and calm, even in tough circumstances. They're also compassionate, generous, and always willing to help others. At the same time, they can be gullible and might be easily tricked.
These, however, are just general porcine personality traits. Yours might differ depending on which pig year you were born and the element — wood, fire, earth, gold, and water — associated with that year.
Wood Pig (1935, 1995). Brave and generous, the wood pig is usually good natured and easy-going, but can get irritable once in a while.
Fire Pig (1947, 2007). Ambitious and dedicated, the fire pig can also be impatient.
Earth Pig (1959, 2019). Want to get to a party on time? The popular earth pig is your sign. A good communicator, he's also a stickler for a schedule.
Gold Pig (1911, 1971). With a heart of gold, the gold or metallic pig is broad-minded, amicable, and always happy to help others.
Water Pig (1923, 1983). The gentle water pig is modest and responsible but can also be stubborn and fickle.
If you're a pig looking for a good match, try those born in the years of the goat, tiger, or rabbit. The signs you'll want to avoid are monkeys and snakes.
What's up for 2019?
In Chinese tradition it's generally believed you're more susceptible to misfortune during the year of your birth sign. However, 2019 seems to be a good one for pigs with a positive outlook in career, health, love, and money Just keep on keeping on, and don't lose focus.
There are some other ways pig people can stay lucky.
Numbers. Your lucky numbers are 2, 5, and 8 (as well as any combination like 25 or 58). Numbers you'll want to avoid are 1 and 7.
Colors. Deck yourself out in yellow, gray, brown, and gold, but keep away from red, blue, and green.
Months. These would be the second, seventh, 10th, and 11th Chinese lunar months.
Directions. Even directions can be lucky! In the pig's case, east and southwest are the good ones while southeast is the one to avoid.
Flowers. Decorate your house in hydrangeas and daisies for some good fortune.
Famous pigs
Celebrities, they're just like us — they have Chinese zodiac signs too!
1911. Television icon Lucille Ball, former U.S. president Ronald Reagan, and all around spooky guy Vincent Price are a just a few pigs born this year.
1935. Spiritual leader the Dalai Lama and the original Mary Poppins Julie Andrews claim this pig year.
1947.This big pig year saw the births of action star and former California governor Arnold Schwarzenegger, rocket man musician Elton John, horror story master Stephen King, and former U.S. Senator, Secretary of State, and presidential nominee Hillary Clinton.
1959. Like 2019, 1959 was an earth pig year, making this year even more special for actors Emma Thompson, Hugh Laurie, and Ken Watanabe; director Gregg Araki; and songwriter and performer "Weird Al" Yankovic.
1971. Actors Sandra Oh, Winona Ryder, Jon Hamm, and Amy Poehler; megastar Mariah Carey; and Canadian prime minister Justin Trudeau can all call themselves pigs.
1983. Happy pig year to Thor himself, Chris Hemsworth, designer Alexander Wang, musician Michelle Branch, actor Steven Yeun, and actor and director Greta Gerwig.
1995. The youngest of the bunch, piglets include models Kendall Jenner and Gigi Hadid, actor Timothee Chalamet, and gymnast extraordinaire Gabby Douglas.
Want to pig out on even more Lunar New Year goodies? Check out our posts on 12 ways to get lucky this lunar new year, eight fortunate foods to eat, and six things you might not know about the Chinese zodiac. You can also start stocking up on Chinese New Year supplies. Xin nian kuai le!