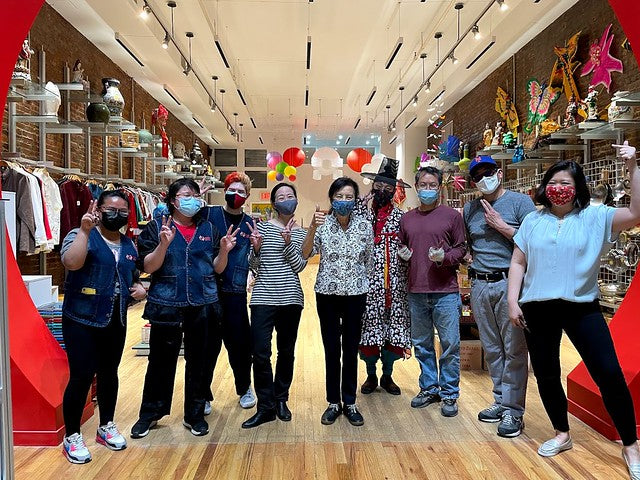 Pearl River in 2021: A Year in Review
Every year, we like to highlight some of our favorite moments from the previous 12 months. But what began as a fun exercise in looking back and celebrating our achievements has become much more than that. Starting last year, during the impossible year, it became about seeking those rays of light through darkness. Now as we remember 2021, we continue to do so, and we continue to appreciate those who have supported, encouraged, and cheered us on along the way.
Kitsby joined Pearl River Mart Foods
We kicked off 2021 by welcoming our fourth in-store vendor to Pearl River Mart Foods. Kitsby specializes in Asian-inspired desserts, such as their delectable lava cakes, and featured some fun and delicious promotions over the year, including a gorgeous one dollar soft serve and both traditional and snowskin mooncakes for the Mid-Autumn Festival.
We rang in the Year of the Ox
We were grateful to be able to have a festive in-person Lunar New Year in 2021. We began with a lucky outdoor meal and celebration at Chelsea Market featuring auspicious treats from Pearl River Mart Foods vendors, Kimbap Lab, Mao's Bao, Tea and Milk, and Kitsby, as well as event partner, Very Fresh Noodles. Of course no Lunar New Year celebration would be complete without a showstopping performance from longtime friends, the Wan Chi Ming Dragon Lion Team. 
We were so glad to be able to host CBS anchor Cindy Hsu in our TriBeCa store, participate in the moving documentary, Year of the Ox, and partner with Think!Chinatown on a fun-filled Tuan Yuan 團圓 Homecoming Box. Then we ended the two-week festivities with another phase of Light Up Chinatown, just in time for the Lantern Festival.
Stop Asian hate
On March 16, a shooting spree in the Atlanta area left eight people dead, six of them Asian women. We were left reeling from this act of violence and hate, just one, unfortunately, of many over the past year. While we felt saddened, angry, and afraid, there were some bright lights, such as a visit from our dear friends Melba Wilson and her team from Melba's Restaurant, bearing warmth, love, and delicious food; a peace vigil and self-defense tips from the Asian American Federation; inspiring words from hometown favorites Karen Chee and Bowen Yang; art from Peach Tao; and perhaps most of all, the supportive comments, emails, and messages from friends, customers, and the community.
Farewell, TriBeCa
Last year we announced the closure of our TriBeCa flagship store, and this year we said goodbye.
Hello SoHo!
However, we were also able to announce the opening of our new space in our old neighborhood of SoHo. After some renovation, a hectic move, and expert sign installing, we opened our doors to friends, family, fans — and Good Morning America! 
We hosted our first art exhibition since the pandemic
We were so happy to partner with Chelsea Market and the Asian American Arts Alliance on Futures Ever Arriving, a group art exhibition in celebration of Asian American and Pacific Islander Heritage Month. It was our first in the urban food hall and the first since the pandemic began.
We opened our first SoHo exhibition and honored Corky Lee
In January we lost the great photographer and activist Corky Lee to COVID-19. His exhibition, Chinese America on My Mind, was one of the first in our TriBeCa gallery, and so it only made sense that the first in our new SoHo space should honor him. Corky Lee on My Mind featured photographs by 21 of Corky's friends, admirers, and mentees.
We welcomed future NY governor Kathy Hochul to Pearl River Mart Foods
Then the lieutenant governor, Kathy Hochul and her team paid a visit to spots in Chelsea Market, including Pearl River Mart Foods. We loved having the chance to share the treats we love so much from our vendors and were happy to see Governor Hochul give an approving nod to her refreshing beverage from Tea and Milk.
The Chens on Humans of New York
So appreciative to Brandon Stanton of Humans of New York for featuring Mr. and Mrs. Chen and giving them a space to tell their story.
Pear River Mart officially turned 50
In September, Pearl River officially turned the big 5-0! We'll be celebrating all year but kicked things off with this vintage news segment featuring a very young Mr. Chen. In addition, Michelle Chen, "goddaughter" of Pearl River and actual daughter of the Chens, penned a beautiful essay for the Asian American Writers Workshop in honor of the anniversary, tracing half a century of history in Chinatown, Pearl River's original neighborhood, alongside that of the store.
Meanwhile, Pearl River Mart Foods celebrated its first birthday in October and our location in Chelsea Market turned four in November.
We had a blast at Shang-Chi 
Thanks to the generosity of our friends at Gold House, we were able to host a private screening of the amazing Marvel flick, Shang-Chi and the Legend of the Ten Rings. Not only was the movie kick-ass, it's the first from the MCU with an Asian director, predominantly Asian cast, and Asian (super)hero in the lead.
We hosted an exhibition with Think!Chinatown
We've collaborated with our longtime friends at arts organization Think!Chinatown on several projects, from this year's Tuan Yuan Homecoming Box to a Lunar New Year roaming lantern installation to author readings. This year we finally had the opportunity to co-host an art exhibition with them, HEARTMIND: Portraits from the Bob Eng Lee and Asian American Arts Centre Collections, which is on view until Jan. 9, 2022. See it before it closes!
We went crazy for Squid Game 
Along with the rest of the world, we went crazy over the most stressful show on streaming television. How crazy? Kimbap Lab offered dalgona treats, complete with a shape-cutting contest; our own Gwen Velazquez dressed up as Red Light, Green Light girl; and we stocked up on merch like plushies, keychains, pens, and Baisun's dalgona-scented candles.
We survived another bonkers holiday season
Supply chain issues, delivery delays, and the Omicron wave — just a few of the challenges we faced during the holiday season. However, we managed to power through it thanks to vaccines, a small yet mighty team, and the loyalty, support, and patience from our customers. We even managed to launch the Chili Box, the first Pearl River Mart Foods Friendship Box, as well as some fun takeout gift boxes.
From our family to yours, here's to happy, healthy, and hopeful 2022!