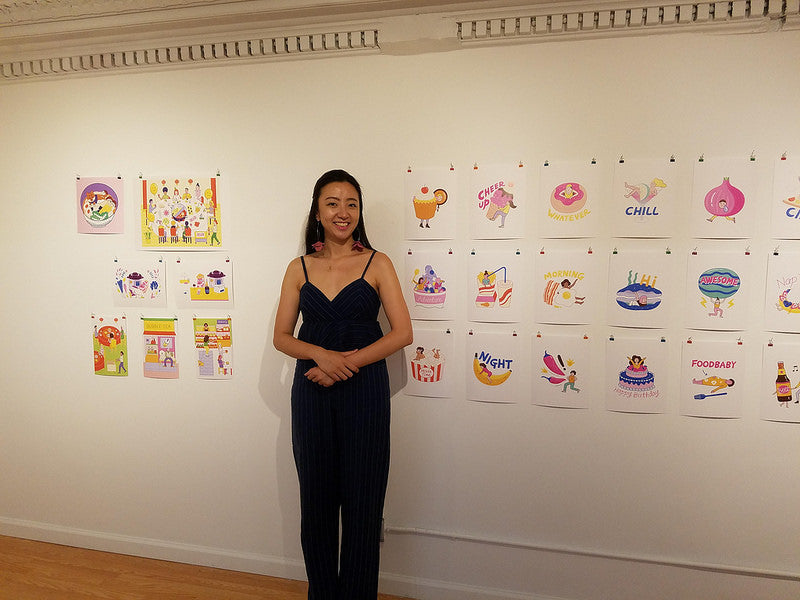 Dingding Hu: Hu is Hungry: An Illustrated Journey of a Starving Artist (July 19–Sept. 9, 2018)
All her life illustrator Dingding Hu has traversed different cultures through food.
After the devastating Tangshan earthquake, her family moved from the northern province of Hebei to the southern city of Chengdu. With them they brought their love of dumplings, mantou (or steamed bread), and other carby comfort fare. But at the same time, Hu couldn't help but develop a taste for huoguo (or hotpot) and other spicy dishes native to Sichuan province, and she found herself adapting to two cultures, one inside and one outside her home.
Thus began her journey of getting to know different cultures through foods. From juicy xiao long bao in her college town of Shanghai, to scrumptious crabs in Baltimore during graduate school, to "charming" bagels in her adopted home of New York.
Inspired by decorative art, Hu's exhibition documented her journey and observations from around the world. Delightfully whimsical (and deceptively simple), her illustrations bring the everyday to life (and sometimes larger than life) and reveal the extraordinary in the ordinary. And they make us hungry.
Learn more about the artist in our interview with her.