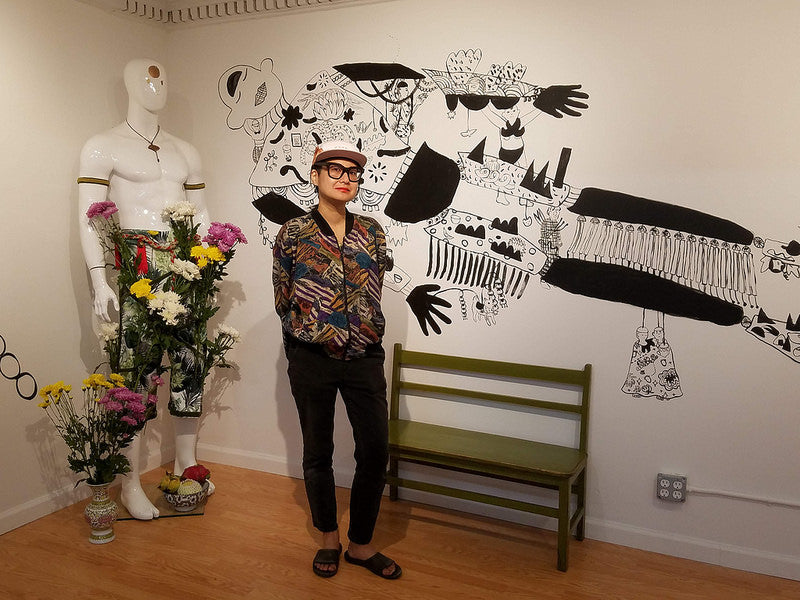 Yumi Sakugawa: Fashion Forecasts (Sept. 15–Nov. 4, 2018)
What if fashion celebrated our ancestral lineage and the elders in our community? What if it created spontaneous energetic collaborations among strangers in sound, healing, performance, dialogue, and movement all over public spaces and in daily life?
From artist and writer, Yumi Sakugawa, and curator, the Smithsonian Asian Pacific American Center, FASHION FORECASTS presented an alternate futuristic reality where everyday fashion is spiritual, intersectional, intergenerational, collaborative, sustainable, and influenced by different Asian and Asian American histories, cultures, and traditions.
At the same time, it playfully challenged strictly held beauty standards around age, gender expression, cultural representation, and body shape.
Viewers were invited to wear the community cape, and see what happened when other people wore the cape with them, and to imagine wearing a living altar to ancestors with offerings of fruit and incense.
Viewers were also asked to consider the possibility that fashion could be more than mass-produced consumerism and could be an intentionally created vehicle for spiritual growth and communal connection that weaves together relationships among strangers across different communities in unexpected, imaginative ways.
Learn more about the artist in our interview.
Props and costumes by Robbie Monsod.