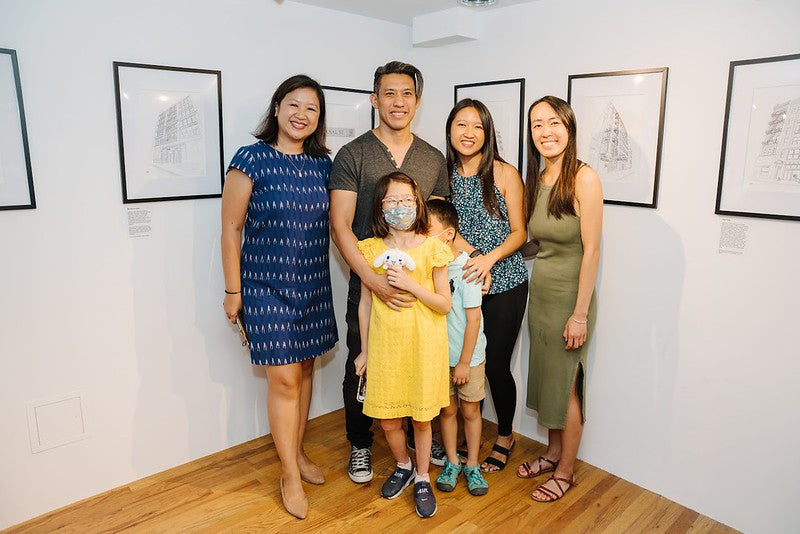 Drawn Together: Stories of Resilience and Renewal in NYC Chinatown (Sept. 10–Dec. 28, 2022)
Presented in partnership with Mott Street Girls and Asian American Arts Alliance, DRAWN TOGETHER: STORIES OF RESILIENCE AND RENEWAL IN NYC CHINATOWN by graphic designer and illustrator Sammy Yuen featured exquisitely detailed line drawings of historic New York City Chinatown businesses, landmarks, and community organizations. 
These neighborhood fixtures, from the oldest (Transfiguration Church, first established in 1801) to the newest (Yu & Me Books, opened in 2021), run parallel to the history of Manhattan's Chinatown — from its establishment in the 1870s as Chinese immigrants, facing discrimination elsewhere, clustered on a handful of streets, to rising in a world redefined by a pandemic and renewed economic hardship, xenophobia, racism, and violence.
To Sammy, the name "Drawn Together" has great significance. "Although these are my pieces, I couldn't have done the show without the Mott Street Girls, Asian American Arts Alliance, and Pearl River Mart," he says. "It's really about all of us working together to heal and make a brighter future."
A portion of the proceeds from this exhibition goes back to these Chinatown businesses and to the Chinatown Mural Project, a not-for-profit dedicated to bringing culturally appropriate large-scale murals to the NYC Chinatown area and beyond.
Learn more