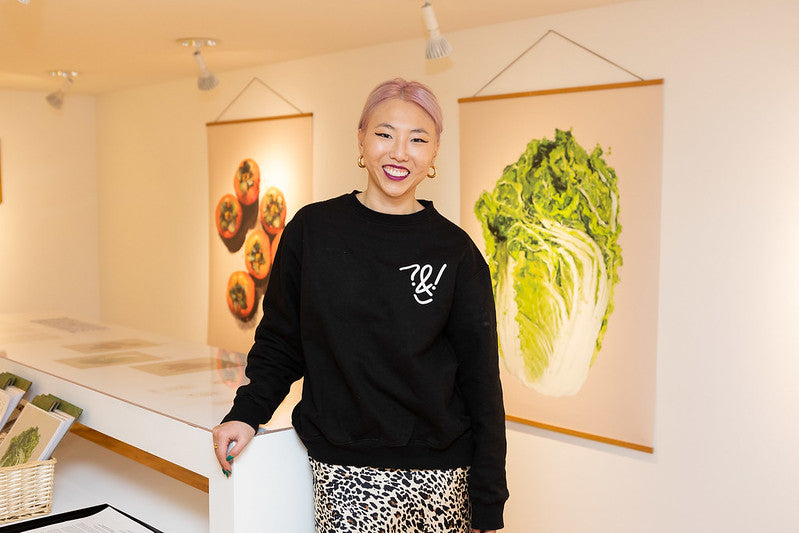 Essential Ingredients: A Recipe for Rediscovery (Jan. 20–April 24, 2022)
Food does much more than keep us alive. It evokes memories, emotions, and meaning. It's about how we grew up or didn't grow up. How we choose to be. It's about the places we've been or wish we were. It's about togetherness and apartness. The past and the future.
For artist Nancy Pappas, food represents rediscovery. As an artist and traveler. A midwesterner, New Yorker, and ex-pat. A Korean adoptee and Korean American. It's about getting back to her roots — those first simple ingredients that come together to make a complex whole.
The pieces in this show represent some of those ingredients. Like red chili and napa cabbage, the bases for that quintessentially Korean dish, kimchi. Or the persimmon, a Buddhist symbol of transformation, changing from bitter to sweet as it ripens. For Nancy it's a reconnection to her homeland. "My first morning with my birth mother," she says, "I found her outside pulling persimmons off the tree. She tossed them to me to catch in a bucket. It was strange — we were strangers — but this mundane chore felt so welcoming and home-like, all at the same time."
Also represented are foods traditionally eaten during Lunar New Year — an important holiday in Korean culture — meant to bring good luck in the future. Like tteokguk, rice cake soup which represents purity, prosperity, and growing one year older. Mandu, dumplings that embody good fortune. Japchae, glass noodles symbolizing long life. 
Browse these works. Learn their meanings. Work up an appetite. And perhaps reflect on your own journey and (re)discover who you are.
Artist bio
Nancy Pappas is a freelance illustrator, designer, and South Korean adoptee based in Brooklyn, New York and Seoul, South Korea. Her approach to her work is the result of her travels, filled with connection, culture, and food. She's focused on supporting Black, Indigenous, and POC people, women, and companies in food, their businesses, publications, and projects.
Recently, she was the art director and designer at Cherry Bombe, a food media magazine celebrating women in the food industry, and spoke at the 2019 Jubilee Conference. She has contributed to other small publications and has been featured in Eater, Chowhound, and Peddler Journal. Outside of editorial, her diverse clientele spans music, food, and fashion, such as Cravings™ by Chrissy Teigen, Saveur, Talisker Whisky, Conde Nast, Refinery29 and Warner Music Group for Cardi B. Nancy is represented by Leigh Eisenman at Wolf Literary.
Learn more