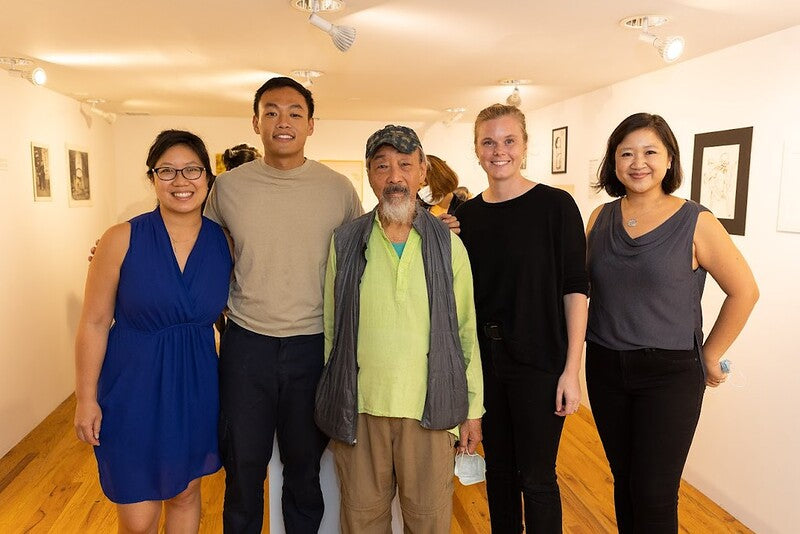 Heartmind: Portraits from the Bob Eng Lee and Asian American Arts Centre Collections (Oct. 20, 2021–Jan. 9, 2022)
This exhibition was presented in collaboration with Think!Chinatown as part of 2021 Chinatown Arts Week.
Established in 1974, the Asian American Arts Centre (AAAC) is one of the earliest Asian American community arts organizations in the country. Choreographer Eleanor Yung (an original member of the seminal collective Basement Workshop) co-founded AAAC as the Asian American Dance Theatre (AADT) with the support of her partner Bob Lee, who would become the eventual director.
The AADT offered dance lessons and some of the earliest Asian American contemporary dance performances. Initially operating out of the New York Public Library, they soon established their own facility in Manhattan Chinatown, and eventually grew to include a visual arts program. In 1987, the dance theatre and visual arts program evolved into the AAAC. Through these changes and evolutions, the mission always remained the same: to promote and support Asian American art and artists.
All the while Lee was collecting artwork — sculptures, drawings, and paintings spanning nearly 40 years of exhibitions and programming. Today, the collection totals about 300 contemporary Asian American art works and about 200 Chinese folk art pieces. This exhibition, co-curated by Lisa Yin Zhang, Simon Wu, and Jayne Cole, highlighted just some of this vast collection, sweeping through the history of the storied organization with select works from 18 artists.
The title HEARTMIND was inspired by conversations between the curators, the presenters, and Lee, specifically about Sung Ho Choi's collage of a Chinese character, which engages what Lee calls the "heartmind" of Asian Americans. The work depicts the character 心 , which in simplest terms translates into English as "heart," but in Chinese means so much more — feeling, thinking, center, core — and often all at once. So too is "Asian American art": on the surface a simple term but upon closer look, varied and complex, with multiple facets and phases, many things at once, and ever evolving.
Through intergenerational perspectives, the AAAC collection has evolved as well. Lee says, "To have hundreds of paintings, drawings, and sculptures of the permanent collection be made accessible to young curators, enabling them to choose which artworks they find meaningful, is a special moment. Works that didn't seem to have significance suddenly do through their eyes."
HEARTMIND adopted a broad understanding of portraiture, displaying significant people, places, and ideas within the two collections. Portraits included Tseng Kwong Chi's self-portrait, Corky Lee's photograph of a pair of white police officers during a Chinatown celebration, and Basement Workshop director Fay Chiang's portrait of her father. Also on view was the first work Lee ever added to AAAC's permanent collection, a drawing by Carrie Yamaoka, as well as a drawing by Lee himself, as a personified vision of the AAAC collection. 
At One Pike, on the other side of Chinatown, was a companion exhibition that further engaged the history of AAAC and the New York City Asian American arts community. Together, these two exhibitions represented only the first of a long-running intergenerational engagement with a vast, enlightening, and idiosyncratic collection.
Featured artists
BOB LEE

LEH CHYUN LIN

SUNGMI NAYLOR
Themes
The exhibition is organized by the following themes:
Curators and partners
Lisa Yin Zhang is an art historian, curator, and writer from Queens, New York. A graduate of Williams College and Stuyvesant High School, she is currently senior staff writer at TheGuide.art, and has previously held positions at the Museum of Chinese in America, the Noguchi Museum, The Museum of Modern Art, and more.
Simon Wu is a writer and curator based in Brooklyn. He serves as the Program Coordinator for the Racial Imaginary Institute and is an alum of the Whitney Independent Study Program.
Jayne Cole is a contemporary art historian based in New York City. Her research focuses on the intersections of art, architecture, and urbanism in Lower Manhattan in the late twentieth century.
Bob Lee is the longtime executive director and co-founder of the Asian American Arts Centre. Born in Newark, New Jersey, Lee moved to New York City in 1970, where he studied art history at the City College of New York and became involved in Asian American community organizations including Basement Workshop, where he and Eleanor Yung met. He was a founding board member of the Asian American Arts Alliance and is currently a board member of Think!Chinatown.
Think!Chinatown is an intergenerational nonprofit that supports Manhattan's Chinatown through art, storytelling, and neighborhood engagement. Chinatown Arts Week is their annual cultural festival of art, food, performances, and installations to connect the grassroots arts of Chinatown with emerging API artists and a wider audience. Visit www.thinkchinatown.org and follow on Instagram at @thinkchinatown.
Learn more