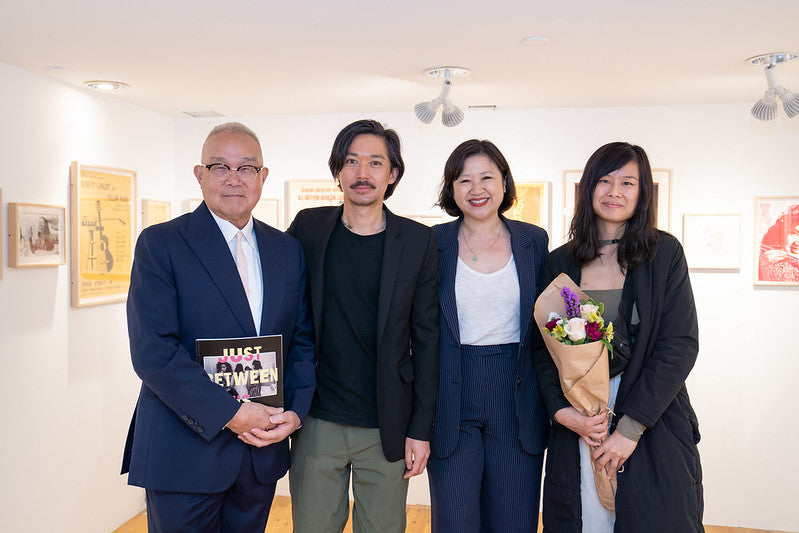 Just Between Us: From the Archives of Arlan Huang (May 4–Sept. 10, 2023)
For nearly six decades as a practicing artist, Arlan Huang has quietly collected art. While some of the pieces were purchased, much has been amassed through "art swaps," or friendly exchanges between fellow artists.
Like a confidence between friends, intel given off the record, or a shared history or experience, this exhibition was "just between us." The phrase evokes the major principles that form the bedrock of Huang's collecting ethics: that art should circulate outside the nefarious concerns of the market, that it should not seek approval from heteropatriarchal white institutions, and that a secret language in the form of gossip and complaint forges the most precious and intimate of friendships.

The works on view narrated both historic and deeply personal moments. His collection traces his time in the Asian American arts network, Godzilla, and the Chinatown-based collective Basement Workshop. Featured artists included Tomie Arai, Ken Chu, Corky Lee, Alex Paik, Hoyt Soohoo, Bob Hsiang and Martin Wong. As the owner of the frame shop Squid Frames, Huang kept longtime correspondence with conceptual artist Sol Lewitt.

Curated by Howie Chen and Danielle Wu, "Just Between Us" was presented in partnership with Think!Chinatown.
A catalog published by Pearl River Mart and Think!Chinatown with an essay by Danielle Wu and an interview between Howie Chen and Arlan accompanied the exhibition. The exhibition is made possible thanks to support of the State of New York and New York State Council on the Arts. It is also supported, in part, by the Lower Manhattan Cultural Council.
Accompanying materials
The Amp: Arlan Huang and Howie Chen on Art and Activism
Press