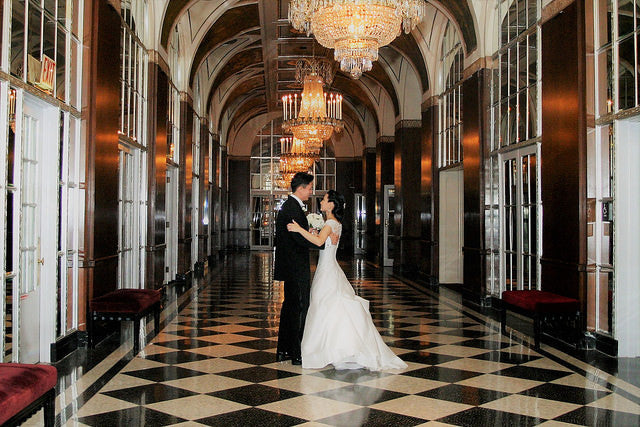 An NYC Bride Embraces Tradition and Culture (With a Dash of Art Deco)
This entire month we're celebrating the joys of tying the knot. Here's a personal story from our friends Scarlett and Dan about how they made their special day extra special.
We never really thought much about getting married when we were younger so we were surprised to discover just how traditional we were when it came to planning our wedding. So when we were selecting a venue, we made sure we found a location that would allow us to embrace both the traditional and the cultural aspects we valued. 
We settled on Saint Bartholomew's Church and the Waldorf Astoria. Their adjacent locations were convenient for our guests and let us have both a classical Christian ceremony and a modern hotel reception. In addition, having several adjacent ballrooms at the Waldorf gave us the space we needed to incorporate the traditional Korean Pae-baek ceremony, and the Silver Corridor was the perfect art deco backdrop for our city reception.
We wanted to honor our Korean heritage and pay respect to our parents by including the traditional Korean Pae-baek ceremony, which was set up in a ballroom next to our cocktail reception.
While the church ceremony was more solemn, we remember the Pae-baek ceremony as light-hearted since we spent most of the time trying to balance our hats on top of our heads.
During the Pae-baek ceremony, we observed most of the traditional aspects such as bowing, serving tea, and receiving the wisdom and blessings of our elders. 
Finally, our Pae-baek ceremony concluded with a very non-traditional "passing of the hats" for our guests' amusement.
As our ceremonies were intended to blend traditions, generations, and cultures, it charmed us to see all of our guests enjoying the reception.
For even more about weddings, check out the personal story from our president, Joanne Kwong; our guide to Chinese weddings, past and present; and 15 ways to add Asian flair to your own nuptials.