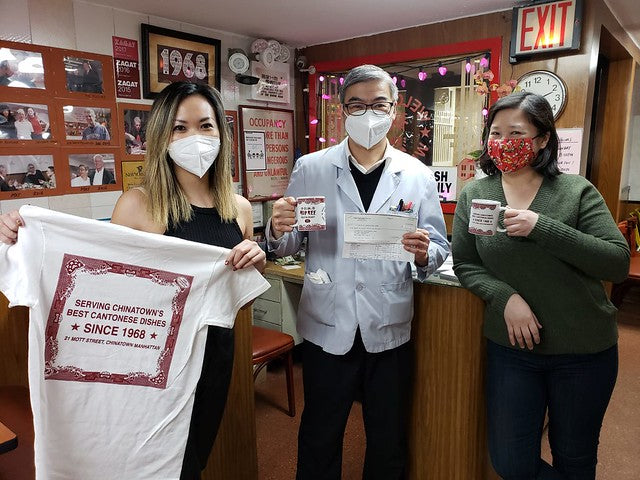 Giving Tuesday Every Day: 10 Incredible AAPI Nonprofits
While Giving Tuesday is technically over, it's never too late to help out some wonderful not-for-profits. Here are 10 we've partnered with and who work so hard to give back to the community.
Welcome to Chinatown. A grassroots organization that works to support Chinatown businesses. Our Chinatown Collection is a partnership with WtC and features merchandise from such iconic and long-standing businesses as Jing Fong, Fong On, and Hop Kee.
Think!Chinatown. An intergenerational nonprofit that supports Manhattan's Chinatown through art, storytelling, and neighborhood engagement. We've partnered with T!C on everything from author readings to Lunar New Year gift boxes to our current art exhibition, HEARTMIND: Portraits from the Bob Eng Lee and Asian American Arts Centre Collection, on view in our SoHo gallery through Jan. 9, 2022.
Heart of Dinner. This brainchild of Yin Chang and Moonlyn Tsai delivers meals to Asian elders in need. 94,438 meals served so far! We were so happy to help out last year with donations of masks and other PPE.
Chinatown Mural Project. Founded to create and install culturally appropriate murals reflecting Chinatown culture and the daily lives of residents. Their latest is dedicated to the late, great photographer, Corky Lee. We're honored to carry a T-shirt with artist Peach Tao's mural, "Mahjong Social," and to have had the opportunity to interview Chinatown Mural Project founder Karlin Chan.
Asian American International Film Festival. This annual festival from Asian Cinevision is committed to film and media as a tool for social change and to supporting diversity and inclusion in the media arts. We love sponsoring it every year, and not just because we get sneak peeks of some great movies.
Asian American Arts Alliance. A4 is dedicated to greater representation, equity, and opportunities for Asian American artists and cultural organizations across all disciplines. We had the pleasure of co-hosting an art exhibition, Futures Ever Arriving, with A4 in Chelsea Market this past May for AAPI heritage month.
Museum of Chinese in America. This venerable institution celebrates, preserves, and presents the 200-year-old living history of the Chinese experience in America.
Asian American Federation. Working to empower NYC's Asian American community since 1989. Pearl River President Joanne Kwong participated in a forum co-hosted by AAF and the Center for an Urban Future on how to help NYC's vital Asian-owned businesses to come back stronger.
Gold House. An organization of multicultural leaders fighting for socioeconomic equity. One of their signature programs is #GoldOpen, which is dedicated to ensuring opening weekend success of various creative projects, like Shang-Chi! (Thanks again Gold House — we had a kick ass time!)
Light Up Chinatown. Props to all involved with this labor of love, including Send Chinatown Love, which seeks to provide relief efforts to small NYC Chinatown businesses suffering from the impacts of COVID-19, and Feed Forward, which specializes in solutions that align technology and innovation with the needs of our communities.
Consider a donation to one or more of these organizations. Happy Giving Every Day!
[Picture (left to right): Welcome to Chinatown founder Victoria Lee, Hop Kee owner Peter Lee, and Pearl River president Joanne Kwong]